As the weather cools down and schools are back, Aventura Parks is ready to welcome guests with two new and exciting offerings. The last quarter of the year marks the UAE's favourite adventure park celebrating emotions and inviting guests to experience and discover the full spectrum at this nature's very own playground. From a new visitor entrance ticket for first timers to explore nature walks, and chill-out areas, to membership passes ideal to use for discovering new activities each time, there is something for everyone at Aventura Parks.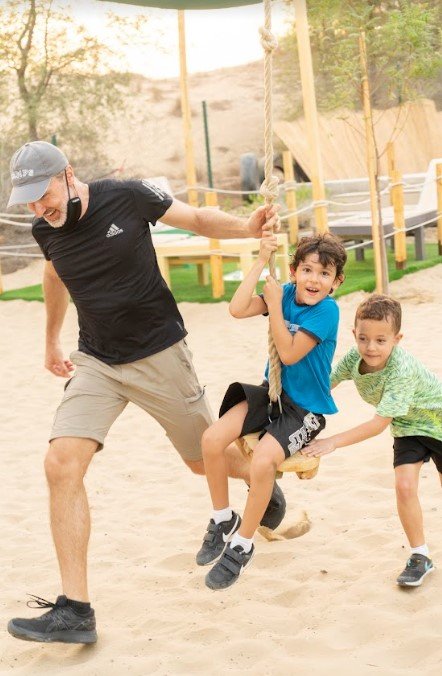 NEW VISITOR TICKET AT AED35
Aventura Parks launched a New Visitor ticket for just AED35, allowing newbies to explore the vast park grounds and wander the Ghaf tree forest. The ticket includes a 20-minute nature walk exploring the local flora and fauna, access to the chill zone where you can enjoy fun board and backyard games while enjoying unlimited water for the ultimate quality time with friends and family.
NEW MEMBERSHIP LAUNCH
To celebrate the season of the great outdoors being back again, Aventura Parks has launched a special membership program offering three distinct yearly passes for every lifestyle.
The Community Pass – offers year-round access to the park for one person, which includes access to one single circuit, the discovery playground, the chill-out area, and Nature Walks. Retailed at AED 690 the pass also includes a 20% discount for friends and family when they visit the park with the pass holder and two free trampoline sessions!
For those searching for adventures during school days, Aventura offers the AED 490 Weekday Pass. This includes year-long access to zip lines, the playground, chill-out area, Nature Walks, two adrenaline pumping challenges, as well as 20% off for friends and family – applicable on weekdays only. There are also special discounts for the café, retail and birthdays too!
Hardcore nature and adventure fans will reap the best benefits from the Unlimited Pass for AED 990. This membership program offers access to zip lines, four free challenges and a 1 hour science made fun afterschool activity per week , in addition to the playground, the chill-out area and Nature Walks, all on any day of the year. The same 20% off applies for guests of the pass holder visiting at the same time.
For more information on the park offers and tickets, or to make a booking please visit www.aventuraparks.com or keep up with them on social @aventuraparks.