Al-Futtaim IKEA, the leading Swedish home furnishing retailer, is set to delight food enthusiasts with its highly anticipated Brunch Buffet, running from June 9th until July 30th. An extravaganza of flavors awaits as IKEA's renowned culinary expertise takes center stage, offering a tantalizing array of delectable dishes to satisfy every palate.
From succulent meatballs to exquisite salmon, vibrant salads to flavorsome vegetarian options, and irresistible desserts, the Brunch Buffet promises a mouthwatering journey through Middle Eastern, Indian, and continental cuisines. Whether you're a fan of traditional favorites or seeking bold and adventurous flavors, the buffet menu caters to all tastes.
Creating the perfect atmosphere for a leisurely weekend gathering, the Brunch Buffet will be available every Friday, Saturday, and Sunday, from 12:30 PM to 4:00 PM. This ensures that families and friends can come together, relish the culinary delights, and discover inspiration for their home furnishing endeavors.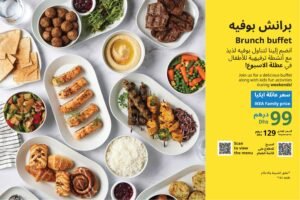 Pricing for this extraordinary dining experience is set at Dhs 129 per person. However, IKEA Family members can avail themselves of an exclusive discounted rate of Dhs 99, making it even more accessible. For children aged 5 to 10, the buffet is priced at a family-friendly Dhs 59, ensuring that everyone can join in on the fun. Additionally, children under 5 can indulge in the Brunch Buffet for free, allowing even the youngest members of the family to enjoy this remarkable culinary journey.
But that's not all! Al-Futtaim IKEA rewards its valued customers with a Dhs 20 store voucher for every purchase of the Brunch Buffet. This voucher can be used toward future purchases, making the dining experience even more rewarding.
To secure your place at this gastronomic adventure, make your reservations at the IKEA Restaurant reservation desk or simply call 800 4532. Spaces are limited, so book early to guarantee your spot and avoid missing out on this exceptional dining experience.
The Al-Futtaim IKEA Brunch Buffet not only promises an exquisite feast for the taste buds but also offers a range of engaging activities for children, ensuring that the entire family is entertained. Embrace the joy of culinary exploration, savor the delectable flavors, and create unforgettable memories at Al-Futtaim IKEA's Brunch Buffet!
Contact Details: Call 800 4532
Visit the Website for more details.