The synergy of haute couture and haute cuisine reaches a pinnacle with the splendid inauguration of Armani/Caffè in the heart of Dubai Mall's Fashion Avenue. This latest gem in iconic fashion maestro Giorgio Armani's constellation of international dining destinations is poised to redefine the very essence of Italian café culture for the discerning Dubai crowd.
Nestled prominently on the ground floor, right across from the Giorgio Armani boutique, Armani/Caffè is a manifestation of Giorgio Armani's inimitable style, from its design aesthetics to its gastronomic offerings. It's an ingenious reinvention of the classic Italian café experience, tailored meticulously for the Dubai connoisseur.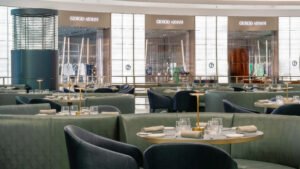 As one steps into the realm of Armani/Caffè, a captivating open-plan layout unfolds, centered around a service island, cultivating an atmosphere that's both welcoming and contemporary. The ambiance is punctuated with a harmonious palette of muted blues and greens, adorned with timeless Armani motifs, weaving a narrative of Italian sophistication that's both inviting and refined.
The culinary journey at Armani/Caffè is a meticulously orchestrated masterpiece, thoughtfully composed by a culinary team led by Italians. Patrons can commence their day with the simple joys of mid-morning coffee and pastries or opt for healthier breakfast options. As daylight transitions into dusk, the menu metamorphoses, presenting a medley of lunchtime classics. Among these delights are the classic vitello tonnato, a tantalizing antipasti selection, and the aromatic lobster and seafood bisque.
For early diners, Armani/Caffè unfurls a tapestry of authentic and indulgent main courses, featuring standouts like lemon-scented risotto with Sicilian prawns, veal Milanese, and succulent wagyu striploin.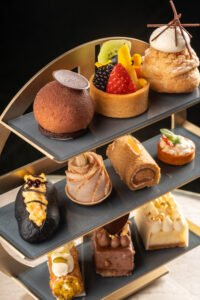 Armani/Caffè assumes the role of a delightful interlude between shopping escapades. The spotlight falls on signature desserts, with the unmissable white chocolate and gold leaf cheesecake, already a darling at the nearby Armani Hotel. The beverage repertoire showcases innovative mocktails and specialty Armani coffees, including the famed Armani gold lattè and a novel non-alcoholic Armani Spritz, rounding out the culinary voyage.
Beyond being a gastronomic haven, Armani/Caffè at Dubai Mall emerges as a vibrant neighborhood hub, a place to convene, mingle, revel in conversations, and savor the allure of Italy. With its cosmopolitan and chic ambiance, this café promises to be a favored casual dining spot, beckoning not only the locals but also global visitors to partake in its allure.
Contact Details: Call 97143627888 or Email reception@armanicaffe.ae
Visit the Website for more details.