Nestled in the heart of Dubai, at the Majestic Premier Hotel on Khalid Bin Al Waleed Street in Bur Dubai, a culinary wonder has emerged. PAHADI, the newly designed North Indian Resto Lounge, has opened its doors to transport diners to the breathtaking world of the Himalayas through the rich, authentic, and flavorful cuisine of the Pahadi people.
The name "PAHADI" is derived from the term "Dwellers of Mountains." It encompasses the population of Himalayan Indian regions, a diverse tapestry that includes Kashmir, Sikkim, Manali, Uttarakhand, Himachal Pradesh, Nepal, and parts of northern Uttar Pradesh. These regions are synonymous with breathtaking views, snow-clad peaks, and lush-green valleys. Just as the mountains are home to the Pahadi people, their cuisine promises varied, mouth-watering experiences as vast as the terrains and vibrant as the scenic beauty that surrounds them.
The Pahadi culture embodies two principles: "Hard Work" and "Simplicity." This simplicity extends to their cuisine, where traditional home cooking, seasonal foods, fresh spices, and homemade ghee (clarified butter) create magic, giving Pahadi food its rustic taste and earthy, nutritious flavors.
PAHADI's menu is a symphony of tastes that define Kashmiri cuisine with saffron-kissed rice, aromatic spices, succulent meats, and fresh produce. It encompasses the folk taste of yak meat and the zest of fermented vegetables from Sikkim. It showcases the crispness of Himalayan apples, the warmth of local honey, and the aroma of Pahadi herbs. In every bite, you can taste the rustic charm of Uttarakhand with the earthy flavors of black lentils, freshly harvested walnuts, rhododendron honey, and the aroma of mountain herbs.
To complement the cuisine, PAHADI offers a diverse beverage menu featuring Alpine spirits from mountain regions. Their seasonal menus align with the changing seasons, providing winter-themed dishes and drinks during the cooler months and fresh, light options in the summer.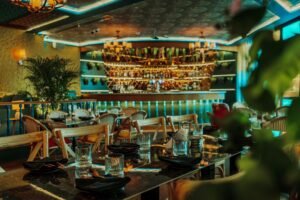 Mr. Hiren Sarvaiya, Managing Director of PAHADI, emphasizes the significance of Indian restaurants from mountainous regions in Dubai's vibrant food scene. PAHADI aims to establish a strong reputation for high-quality food, exceptional service, and a unique and memorable dining experience.
PAHADI is not just a dining experience; it's a family-friendly destination. With special menus for children, play areas, and live entertainment featuring traditional alpine music and yodeling performances, it caters to all age groups.
PAHADI is available for exclusive private events, weddings, and corporate gatherings with a mountain-themed twist. It also engages in cultural activities, art exhibitions, and cultural exchange programs to promote the heritage and traditions of the mountain regions in North India.
Instagram: @pahadidxb