Brace yourself, Dubai, for a groundbreaking culinary revolution as Restaurant Secrets Inc. unveils 1640 Bistronomy, the region's first homegrown gastronomical culinary hub. Nestled in the heart of Al Wasl, Jumeirah, this all-year-round pop-up venue is set to redefine the way we experience food and beverages in Dubai.
1640 Bistronomy is the brainchild of Restaurant Secrets Inc., the region's largest and oldest F&B incubator firm with a remarkable 27-year legacy of nurturing over 400 F&B businesses and brands for Dubai and the world. Founded by Gabrielle Mather, a culinary visionary, this bistro is the epicenter of culinary innovation, offering Dubai's food scene an unparalleled space.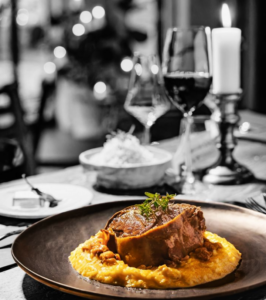 Starting November 15th, 1640 Bistronomy will serve as a gastronomical hub like none other. In the mornings, it transforms into a pop-up concept, providing local brands with the perfect canvas to experiment with their menus and concepts. By evening, it transitions into an all-day dining restaurant operated by 1640 Bistronomy itself, promising an authentic European bistro experience
1640 Bistronomy is more than just a bistro; it's a haven for entrepreneurial spirits. This versatile hub offers affordable pre-launch solutions for budding homegrown restaurants and a full-fledged experiential F&B unit. It's designed to nurture the dreams of restaurant startups by providing practical solutions, embodying the essence of affordable creativity.
Gabrielle Mather, the CEO of Restaurant Secrets Inc., expressed her excitement about 1640 Bistronomy, saying, "1640 Bistronomy was born out of a desire to bring to Dubai's culinary scene a unique space that evokes a warm social gastronomical hub operating multiple concepts from 8 am to late, with chef-driven seasonal menus, intimate chef table experiences, and a full-fledged private culinary cove for hire to launch new brands, host events, and product testing sessions."
1640 Bistronomy also serves as the nexus for RSI's portfolio of restaurants. It will host unique pop-ups throughout the year, adding an element of surprise and creativity to the Dubai dining scene.
In essence, 1640 Bistronomy is set to redefine Dubai's gastronomical landscape, offering practical solutions for start-ups and mature F&B ventures alike. It's not just a restaurant; it's a culinary movement, an ode to Dubai's love for food, creativity, and innovation. Get ready to embark on a gastronomical journey like no other, right in the heart of Dubai.
Instagram: @1640bistronomyuae
Visit the Website for more details.