Danube Home, the leading home improvement and furniture retailer in the region, has unveiled a garden collection that promises to transform your outdoor spaces into havens of style and comfort. The grand launch of the My Garden 2024 catalogue was a highly anticipated event, attended by distinguished members of the press and top management from Danube Home.
Sayed Habib, Director of Danube Home, provided insights into this year's theme, stating, "The Danube Home My Garden 2024 catalogue is all about 'Thinking Outdoor, Thinking Danube Home.' Our collection offers a diverse range of outdoor aesthetics, including Calm, Modern, Boho, Evergreen, Monochrome, and Contemporary. These meticulously designed products cater to various outdoor spaces, from cozy apartment balconies to expansive villa backyards. Whatever your aesthetic preference, you'll find something to design your dream garden under one roof."
The remarkable My Garden collection at Danube Home encompasses an extensive array of garden products, including gazebos, pergolas, balcony sets, sofa sets, dining sets, swings, parasols, outdoor lighting, and garden accessories. Each item is crafted with exceptional durability, ensuring it can withstand the rigors of outdoor weather conditions.
In a world increasingly conscious of environmental concerns, Danube Home places a strong emphasis on sustainability. Habib explained, "Our customers are more environmentally aware than ever before. We prioritize sustainability by incorporating materials such as olefin fibers in our seating options and crafting gazebos and pergolas from sustainable materials like aluminium and steel. We also focus on local sourcing to reduce emissions and conserve energy."
Dangati Jayaraj, General Manager – Retail, Danube Home, highlighted the customer-centric approach, saying, "Our My Garden 2024 catalog is designed to inspire our customers, encouraging them to shape their ideal outdoor oasis. With our vast range of offerings, customers have the freedom to mix and match products to achieve their desired aesthetics. With decades of experience, we proudly hold the No.1 position as the premier outdoor solutions provider in the market, offering warranties of up to 2 years on most products. Having solidified our reputation as the ultimate home destination, we are now becoming the go-to destination for all things outdoor."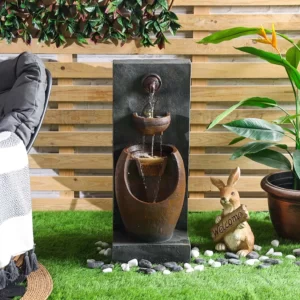 As the region experiences cooler weather, the demand for high-quality outdoor furniture is soaring. Danube Home aims to establish itself as the most trusted outdoor furniture brand in the region with this latest offering.
The My Garden 2024 catalogue is easily accessible on both Android and iOS devices. This exciting collection is available at all Danube Home showrooms in the UAE and can also be explored online at www.danubehome.com.
Danube Home's My Garden Collection 2024 is not just furniture; it's an invitation to reimagine your outdoor spaces and make them truly exceptional. Discover the possibilities and create your outdoor oasis today!
Instagram: @danubehome
@adelsajan
@danubegroupuae
@szhabib