Dubai's vibrant food scene has a new player, and it's ready to whisk your taste buds away on an extraordinary journey. Say hello to Énas, the Greek-style Mediterranean restaurant nestled on the exquisite Palm Jumeirah. Prepare to be transported to a world of tantalizing flavors, elegant ambience, and an experience you won't soon forget.
Énas, meaning "one" in Greek, is more than just a restaurant—it's a gateway to the heart of the Mediterranean. Picture yourself stepping into a chic, light-filled space adorned with earthy tones, textures, and stunning olive tree centerpieces. With each step, you'll feel like you've been transported to a cozy Mediterranean haven, ready to embark on a culinary adventure like no other.
But what sets Énas apart? It's their unwavering dedication to celebrating the simple pleasures of eating and sharing food. Their menu is a treasure trove of Mediterranean delights, with a contemporary twist that will leave you craving for more. Dive into a mezze platter brimming with Kalamata olives, marinated feta, and an array of tempting dips, accompanied by the heavenly Koulouri bread—a match made in culinary heaven.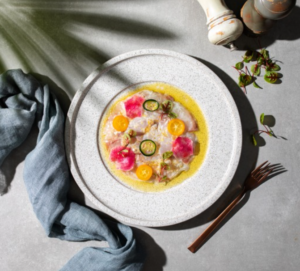 If seafood is your weakness, prepare to be amazed. Énas proudly presents their signature charcoal seafood platter, a mesmerizing ensemble of chargrilled octopus, steamed clams, seared sea bass, and grilled tiger prawns. But here's the twist: you get to handpick your catch from their eclectic fish display, ensuring a personalized and interactive dining experience.
For meat lovers, the grilled meat platter is a feast fit for the gods. Indulge in succulent chicken souvlaki, pressed lamb shoulder, beef ribeye, and charcoal lamb cutlets—all expertly prepared to perfection. Each bite is an explosion of flavors that will transport you straight to the picturesque shores of Greece.
No Mediterranean experience is complete without a perfectly paired drink, and Énas has you covered. Explore a curated selection of fine Greek wines, each telling a story with its distinct character. From the robust reds of Xinomavro to the crisp whites of Gaía Thalassitis from Santorini, the wine list is a journey in itself. And if cocktails are your fancy, don't miss the playful Philoxenia, a libation crafted to perfectly complement the restaurant's seafood specialties.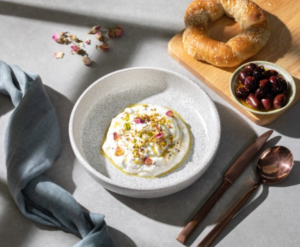 Mark Patten, Senior Vice President of Food and Beverage, can't contain his excitement: "We're thrilled to introduce our new restaurant to the vibrant community of Dubai. Énas is a passion project led by a diverse team of 10 nationalities, dedicated to bringing simple, fresh, and flavorsome dishes to life in a stunning Mediterranean setting."
So, whether you're a resident, visitor, or a devoted foodie, make sure to mark Énas on your culinary map. It's a place where the spirit of Greece dances on your palate, and every bite transports you to sun-kissed shores and balmy evenings under the Mediterranean sky. Énas invites you to savor the joy of good food, warm hospitality, and unforgettable memories.
Come and discover Énas at the Balqis Residence on the West Crescent of Palm Jumeirah, and prepare to be whisked away on a Mediterranean culinary adventure like no other !
Instagram: @enasdxb
Visit the Website for more details.