Ladies and gentlemen, food enthusiasts and globe-trotting flavor seekers, prepare to be whisked away on a culinary voyage like no other. Atlantis The Royal proudly presents Gastronomy, the latest jewel in its culinary crown, offering daily breakfast and dinner services starting September 28th. Nestled on the first floor of this ultra-luxury experiential resort, Gastronomy offers breathtaking views of Palm Island and Dubai Marina from its expansive 320-cover terrace. But what truly sets this dining experience apart is its immersive chef's table concept. With the kitchen and action stations wrapped around diners, you're not just eating; you're participating in a culinary adventure.
As you step into Gastronomy, the waft of freshly baked goods will embrace you, courtesy of the Pastry & Bakery section. Picture this: 15 types of beautifully handcrafted croissants, 12 varieties of artisan bread, and a Deli station boasting premium cured meats and gourmet cheeses. For breakfast connoisseurs, the Western section serves up a hearty English breakfast. And if you're a fan of benedicts, you're in for a treat with turkey, veal, or salmon options, each prepared to perfection. The Orchard section caters to Mediterranean and Middle Eastern cravings with dishes like avocado toast with hot smoked salmon, truffle labneh with dukkha, and Arabic Mezze.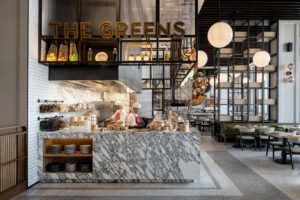 Gastronomy transcends borders with its offerings, delving into Indian and Southeast Asian cuisine. Think chana masala, paneer bhurji, sambar, dhokla, paratha, and freshly made dosa. The Seven Seas station tempts you with homemade smoked salmon, freshly made eggs, and seasonal fruits from across the globe. And for dessert lovers, the spread is a symphony of sweetness, featuring handcrafted chocolates, homemade ice cream, sweet pastries, colorful candies, and more.
Gastronomy is a haven for diverse dietary requirements. Whether you're gluten-free, nut-free, vegetarian, or vegan, there are delightful alternatives. Don't miss the gluten-free croissants and a selection of vegan cheeses.
For coffee aficionados, Gastronomy boasts an in-house roastery, grinding scrupulously sourced beans daily for the freshest cup of coffee. But it's not just about coffee; there's an extensive beverage selection, including Mimosas, Bellinis, Rossini, Bloody Marys, and a tantalizing variety of fresh juices and smoothies.
As the sun sets, Gastronomy transforms into an epicurean wonderland for dinner. Diners chart their culinary journey through live cooking stations offering international and regional delights. From Southeast Asian gems to meats grilled over charcoal and wood, succulent seafood, and Mediterranean and Middle Eastern treasures, the menu is a tapestry of flavors. Signature dishes include Australian Angus beef cooked over mangrove and cherrywood, 12-hour smoked brisket, and butter chicken, to name a few.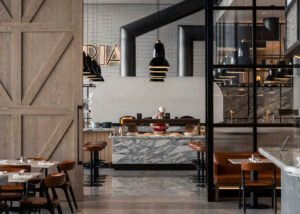 The dinner service boasts a premium drinks menu. The Vineyard wine room showcases classic and emerging wine regions, inviting guests to sample 25 wines by the glass for a global wine tour. Aperitivo and digestivo stations, signature cocktails, and a terrace bar add to the beverage delights.
Gastronomy at Atlantis The Royal isn't just a meal; it's a global gastronomic journey that combines incredible flavors, stunning views, and immersive dining. Whether you're starting your day with a lavish breakfast or indulging in an epicurean feast for dinner, Gastronomy is your passport to a world of culinary wonders. Prepare to savor, indulge, and create unforgettable moments. Gastronomy is more than a dining experience; it's a culinary story waiting to be told.
Contact Details: 04 426 2626
Visit the Website for more details.