Time Out Market Dubai is all set to celebrate its second anniversary with a bang! The three-day event will take place from April 28th to 30th and will be a perfect occasion for foodies and families to come together and indulge in a range of exciting activities. To add to the excitement, Time Out Market Dubai has announced the launch of a new food concept, à la grecque, created exclusively for the event by Chef Athanasios Kargatzidis. The concept will offer visitors a unique and authentic taste of Greece through Chef Tommy's innovative and fresh approach to traditional Mediterranean cuisine. The menu features an array of dishes, from the classic Souvlaki Wraps and Tarama to the mouth-watering Moussaka and much more.
Apart from the delectable food, the event will also feature a variety of entertainment options for visitors of all ages. From live music by artists such as Carl Lafrenais, Dan Moores, and Ibby to electrifying performances by renowned DJ Akmaral, there will be something for everyone. The event will also feature various kids' activities and balloon distribution to add to the festive spirit.
Commenting on the anniversary celebrations, Lloy Rubio, Time Out Market Dubai General Manager, said, "We are thrilled to celebrate our second anniversary with such an exciting line-up of activities and the launch of our new food concept, à la grecque. It's an honor to have Chef Tommy on board, and we are looking forward to offering our visitors a unique culinary experience that they will cherish."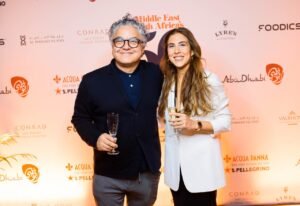 Time Out Market Dubai opened in April 2019 and has since become a hub for food lovers, offering a carefully curated mix of 17 homegrown foodie favorites by award-winning chefs and much-loved restaurateurs, three stunning bars, and vibrant cultural and entertainment spaces. All of this is set against the backdrop of incredible scenic views of the Dubai Fountain and the Burj Khalifa, making Time Out Market Dubai one of the most exciting culinary and cultural destinations in the region.
So, mark your calendars and head down to Time Out Market Dubai from April 28th to 30th for an unforgettable anniversary celebration with family and friends.
Instagram: @timeoutmarketdubai
Visit the Website for more details.