Are you ready to embark on a gastronomic adventure like no other? Giardino, the renowned dining destination at Palazzo Versace Dubai, has something special in store for you. Picture this: three enchanting nights that transport you to different corners of the culinary world. Get ready to indulge in Asian Wonders, Arabian Oasis, and Ocean Feast – a trio of themed nights that promise to delight your senses and create unforgettable memories.
Asian Wonders Thursdays: A Journey Through Asia Available from September 21st
Every Thursday, Giardino transforms into an Asian-inspired haven, setting the stage for an enchanting evening filled with Oriental ornaments and décor. What's on the menu? A wide array of Asian delicacies awaits you, prepared at live cooking stations. Think delectable Dim Sum, Noodles, Teppanyaki, Peking Duck, and more. And don't miss the street food corner offering Fried Tempura, Bao Buns, Shabu Shabu, and other delights for a truly authentic Asian affair.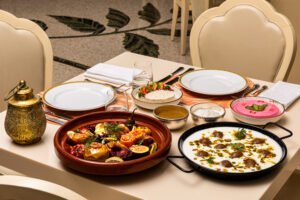 But it doesn't stop at food. The night comes alive with specially curated entertainment, including live musical performances and traditional dance routines from across Asia, making it a truly immersive experience.
Arabian Oasis Fridays: Middle Eastern Magic Starting September 15th
Every Friday, Giardino transforms into an opulent Arabian Oasis, adorned in traditional Middle Eastern décor. As you arrive, welcome drinks will spark your palate. Feast on delicious dishes from live cooking stations serving rich, authentic flavors of Arabia, from Hot and Cold Mezze to succulent Grilled Meats and Seafood, Saj, Shawarma station, Turkish Baklava, and an Ice Cream Trolley, to name a few. Complement your meal with Middle Eastern beverages, live mocktails, Moroccan tea, and Turkish coffee.
To enhance the experience, traditional Arabic entertainment awaits, including a Moroccan Shikhat Show, Turkish Dance, and an Arabic Band playing classic tunes, making it a memorable evening for families.
Ocean Feast Saturdays: Dive into the Seafood Extravaganza
If you're a seafood lover, Saturdays at Giardino are your paradise. Giardino's popular Ocean Feast now takes place on Saturdays. You'll be transported to the Mediterranean with live cooking stations designed to cover all things under the sea. Relish the fresh taste of the ocean with Giardino's seafood feast. Enjoy a selection of sea harvest from across the world, including mussels, lobster, shrimp, scallops, calamari, and more.
To elevate your evening, Giardino hosts a resident DJ and a Saxophonist, serenading you with melodic tunes in the jungle-inspired setting.
Giardino at Palazzo Versace Dubai invites you to experience these three incredible theme nights that promise to be a feast for your senses. Whether you're craving the flavors of Asia, the richness of the Middle East, or the freshest seafood from the Mediterranean, Giardino's themed nights have you covered. Make a date with Giardino and embark on a culinary journey like no other!
Visit the Website for more details.