Get ready for an adrenaline rush as "Gran Turismo" roars into cinemas across the GCC, starting August 10th. This high-octane film showcases the incredible journey of Jann Mardenborough, a determined working-class gamer with a dream bigger than life itself.
Imagine a world where the lines between the virtual and the real blur, where a gamer's passion ignites the road to becoming a real-life race car driver. In "Gran Turismo," Jann Mardenborough, portrayed by the talented Archie Madekwe, is the embodiment of this dream. As he seizes the chance to become Nissan's official GT driver through Gran Turismo's GT Academy, we witness the relentless pursuit of excellence. David Harbour brings a powerful performance as a former racecar driver seeking redemption, while Orlando Bloom adds depth as an idealistic motorsport executive.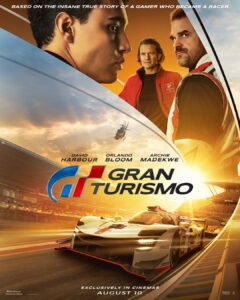 Director Neill Blomkamp, renowned for his stunning science fiction works, takes the helm of this breathtaking journey. With a screenplay by Jason Hall and Zach Baylin, the film promises a roller-coaster ride of emotions, pulsating action, and unwavering inspiration. The incredible story is based on true events, making it all the more compelling.
The synergy between the star-studded cast, including the charismatic performances by Archie Madekwe, David Harbour, and Orlando Bloom, keeps audiences on the edge of their seats. It's a testament to the resilience of the human spirit, a tale of defying the odds, and a celebration of passion.
"Gran Turismo" is not just a movie; it's a thrilling testament to the potential within us all. Backed by the legendary Playstation Studios video game, the film is the result of a collaborative effort led by producers Doug Belgrad, Asad Qizilbash, Carter Swan, and Dana Brunetti. The visionary touch of executive producers Matthew Hirsch, Jason Hall, Kazunori Yamauchi, and Hermen Hulst ensures this cinematic journey accelerates to greatness.
This release promises to be an unforgettable event for cinema enthusiasts and motorsports fans alike. Prepare to witness the power of determination, the fusion of gaming and reality, and the indomitable spirit that fuels champions.
Don't miss your chance to experience the thrilling ride of "Gran Turismo," where dreams take the driver's seat and the human spirit accelerates towards victory!
Watch the Trailer here.