Luxury car enthusiasts in the UAE have a new reason to celebrate as Hurtan Automoviles makes its debut in the country with the launch of the Hurtan Grand Albaycin. The Spanish manufacturer's flagship model is a handcrafted luxury convertible that boasts a classic design inspired by the 1950s and 1960s era.The car boasts a combination of chrome accents, rounded shapes, and a sleek, aerodynamic body that exudes elegance and sophistication.
The exterior is finished with meticulous attention to detail, including hand-stitched leather work that gives it a bespoke look.Under the hood, the Hurtan Grand Albaycin is powered by a 2.0-litre turbocharged engine that delivers 184 horsepower and 205 Nm of torque. The car comes with a six-speed manual gearbox as standard, but buyers can also opt for a six-speed automatic transmission.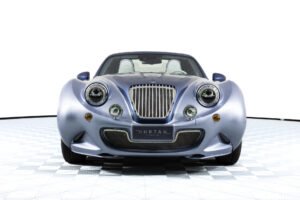 The car's suspension has also been tuned for the UAE's climate and driving conditions, ensuring a smooth ride.Inside, the Hurtan Grand Albaycin offers a luxurious cabin that is upholstered in premium leather and equipped with high-end features such as a touchscreen infotainment system, climate control, and a premium audio system. The car also features a range of bespoke options, allowing customers to customize their vehicle to their specific needs and preferences.
Speaking at the launch event, Juan Hurtado, the founder of Hurtan Automoviles, expressed his enthusiasm for the brand's debut in the UAE market. He emphasized that the Middle East region is a key focus for the company's global expansion strategy, and he is confident that the handcrafted luxury cars will resonate with customers in the region who appreciate timeless design and exceptional quality.
Hurtan Automoviles has partnered with Unique Cars Middle East FZCO, the exclusive distributors of the brand in the Middle East, to make the Hurtan Grand Albaycin available for order.
The car is expected to appeal to discerning buyers who value luxury, exclusivity, and performance. With its distinctive style and premium features, the Hurtan Grand Albaycin promises to offer a unique and exclusive driving experience to customers in the UAE.
Visit the Website for more details.