In a captivating ode to the spirit of Emirati Women's Day, Ideal Standard, a pioneering force in innovative bathroom solutions, illuminated the Dubai skyline with creativity and inspiration. The evening of August 23rd witnessed an enchanting event that celebrated the accomplishments of Emirati women in a most artistic manner.
Gathering at the illustrious Ideal Standard Dubai Design & Specification Centre, nestled within the vibrant heart of City Walk, attendees were transported into a realm of artistic expression. Emirati Women's Day, an annual tribute held on August 28th, became a canvas for Ideal Standard to recognize and applaud the significant strides of women in the UAE.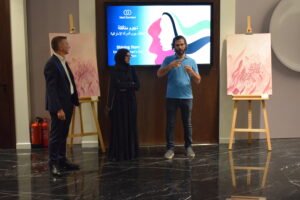 Under the open sky, against the backdrop of the awe-inspiring design envisioned by the visionary Italian architect Roberto Palomba of Palomba Serafini Associati, the event came alive. This remarkable facility resonates with the essence of creativity and ingenuity. With windows that beckon and inspire, it is a space where design meets innovation in the most harmonious way. Just as the renowned artist Narjes Noureddine seamlessly melds Arabic calligraphy into diverse art forms, this center provides architects and designers a haven to craft personalized bathroom solutions, supported by a team of skilled professionals.
The evening unfurled like a masterpiece in motion, with Narjes Noureddine, a luminary in the world of Arabic calligraphy, gracing the event with her live painting session. As her brush danced, the strokes of calligraphy conveyed stories of tradition, modernity, and the power of women. A symphony of creativity echoed throughout the venue, mirroring Ideal Standard's meticulous attention to detail in every bathroom solution they create.
For Ideal Standard, the fusion of design and performance is an art. Their ethos revolves around seamlessly intertwining these pillars to craft an unparalleled array of products and solutions. Globally acclaimed for their revolutionary approach to bathroom solutions, Ideal Standard harmonizes aesthetics with functionality. Their product line stands as a testament to their commitment, showcasing cutting-edge designs that redefine industry norms.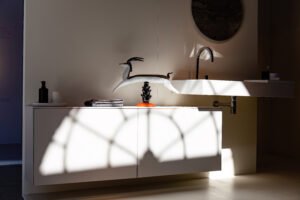 The event was a convergence of artistry and innovation, a testament to Ideal Standard's deep connection with the UAE community. A night of triumph, it reaffirmed their dedication to pursuing design and innovation excellence while staying rooted in the rich culture and intricacies of the UAE.
As the stars illuminated the Dubai sky that night, so did the talents of Emirati women and the visionary spirit of Ideal Standard. The celebration stands as a testament to the enduring power of creativity and innovation, woven into the fabric of the UAE's vibrant culture!
Visit the Website for more details.