In the ever-evolving world of smartphones, one name stands out: the HONOR X9b 5G. This cutting-edge device redefines the very essence of a smartphone, offering not just luxury but also state-of-the-art amenities without breaking the bank.
First impressions matter, and the HONOR X9b 5G doesn't disappoint. Its golden curvature is a testament to modern design and technology. It's not just a phone; it's a piece of art that fits comfortably in your hand. The perfect balance between aesthetic appeal and user comfort makes it a sheer delight to hold.
But what sets the HONOR X9b 5G apart from the competition? The answer lies in its unbreakable nature. Thanks to the HONOR Ultra-Bounce Anti-drop Display, this phone can take a hit and keep on ticking. Imagine a material that forms a shock-absorbing structure around the phone, providing resistance to drops of up to 1.5 meters. The device offers 360° protection to all six faces and four corners, even on unforgiving surfaces like hard marble. Micro-level gaps in the structure deform and absorb energy, acting as a built-in airbag, preventing cracked screens or damage. The HONOR X9b 5G is the first to earn a Five-Star Overall Drop Resistance certification from Switzerland's SGS.
While toughness is essential, performance is paramount. The HONOR X9b 5G is powered by the Qualcomm Snapdragon 6 Gen 1 Mobile Platform, delivering exceptional performance and handling intensive tasks with ease. With 12GB of RAM and 256GB of storage, it offers ample space for work and personal files. But what's truly impressive is its industry-leading 5800mAh battery, capable of powering the device for an entire day and supporting up to three days of use. Whether you're working, playing, or entertaining, the HONOR X9b 5G ensures uninterrupted performance.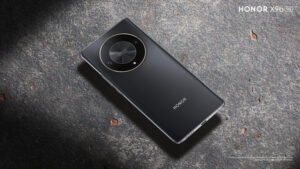 For photography enthusiasts, the HONOR X9b 5G's triple camera system is a dream come true. Featuring a 108MP Lossless Capture Camera, a 5MP Ultra-Wide Camera, and a 2MP Macro Camera, it captures images in stunning detail. Even in low-light conditions, it excels in sharpness, exposure, and dynamic range. The camera's 3X zoom and motion capture engine produce clear, detailed snapshots, even when your subject is on the move. The HONOR X9b 5G opens up new horizons for dynamic photography.
The HONOR X9b 5G's 6.78-inch AMOLED Curved Display boasts 1.5K ultra-clear resolution and 1.07 billion colors, creating a vivid, immersive viewing experience. Despite its large display, the device remains remarkably slim, making it easy to carry for both work and leisure activities.
The HONOR X9b 5G offers a high-end experience without the hefty price tag. It's a testament to design, performance, and durability. Whether you're a photography enthusiast or a tech-savvy professional, this smartphone offers everything you need without draining your wallet.
Exciting news for those in the UAE! The HONOR X9b 5G is available for pre-order at hihonor.com, Axiom, Carrefour, Emax, Jumbo, KM Trading, Lulu, Nesto, and Sharaf DG. Priced at just AED 1299, it's a steal. And when you make your purchase, you'll receive free gifts worth AED 407, including HONOR CHOICE Earbuds X5e, 12 months of screen & back cover protection, and a 24-month battery health warranty.
The HONOR X9b 5G is more than just a smartphone; it's an experience. Get ready to embrace the future of technology without compromise.