In the heart of Ras Al Khaimah's culinary scene, the famed Karma Kafé by Buddha-Bar is making waves once again. Known for its fusion Pan-Asian flavors and immersive dining experiences, the hotspot has raised the bar with the launch of an enticing Dim Sum menu, set against the backdrop of Hampton by Hilton Marjan Island.
Head Chef Bishal Moktan, a master of Pan-Asian cuisine, has crafted a menu that draws inspiration from the iconic Dim Sum houses of Hong Kong, all infused with the signature Buddha-Bar style. Each bite-sized Dim Sum is a burst of Asian flavors, featuring fresh ingredients meticulously curated to tantalize your taste buds.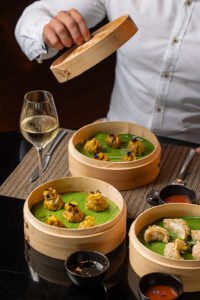 Chicken Shumai: Immerse yourself in the flavors of shiitake mushrooms and the delightful pop of orange tobiko, perfectly complementing succulent chicken.
Prawn Haw Gow: Plump prawns, chives, and lime leaves encased in a delicate dumpling wrapper – a Dim Sum favorite redefined.
Beef Dumpling: Indulge in the richness of USDA Choice Beef, expertly folded into a dumpling that's a true carnivore's delight.
Crispy Chicken Bao: A pillowy bun cradling crispy chicken, offering an enticing contrast of textures.
Sweet Potato Dumpling: For vegetarians, a delectable blend of tender vegetables, water chestnuts, coriander, and a hint of white pepper awaits.
These delectable Dim Sum creations are available daily from 1 pm, joining Karma Kafé's already tempting menu featuring sublime sushi rolls, mouthwatering stir-fries, ahi tuna pizza, and the sizzling Szechuan beef.
Since its inception in the beachfront Hampton by Hilton Marjan Island in 2021, Karma Kafé by Buddha-Bar has swiftly risen to prominence, earning the top spot for Ras Al Khaimah restaurants on TripAdvisor. It seamlessly blends contemporary Pan-Asian flavors, masterful mixology, and Buddha Bar's iconic soundtracks, creating an immersive dining experience that transcends the ordinary.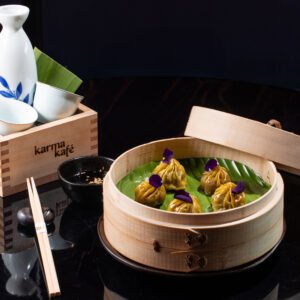 For an elevated experience, consider a gourmet staycation at Hampton by Hilton Marjan Island. Book your stay between now and the end of September, and indulge in a relaxing retreat with room rates starting at just AED 400++ for 2 adults and 2 children under 6. This offer includes a hot breakfast and complimentary Wi-Fi. Furthermore, relish the culinary delights at Karma Kafé by Buddha-Bar with an exclusive 20% discount on à la carte food and drinks, including the all-new Dim Sum Menu.
Embrace the flavors of the East, elevate your dining experience, and discover the allure of Ras Al Khaimah's culinary gem, Karma Kafé by Buddha-Bar!
For reservations, please email info@karmakaferak.com or call 07 209 0099.
Visit the Website for more details.