This Fourth of July, get ready to rock your taste buds and ignite your senses at La Cava, the exclusive wine cellar at Rosewood Abu Dhabi. Prepare for a patriotic journey through the American Collection, featuring an exquisite lineup of wines from the land of stars and stripes. With mouth-watering cheeses, tantalizing cold cuts, and a touch of American flair, La Cava promises to make your Independence Day celebrations absolutely legendary!
The American Collection – Red, White, and Fruity
Step into La Cava from July 4th to 9th and let your taste buds embark on an adventure through the American Collection. We're talking about a wine lineup that would make Uncle Sam proud! Eight stellar varieties from across the pond are ready to captivate your senses and make you shout, "Cheers to the good ol' USA!" And the best part? You get two whole hours to indulge in unlimited American pours, cheese, and cold cuts. It's a star-spangled deal you don't want to miss, priced at just AED 259!
The Social Table Series – American Wine Dinner
Hold on to your taste buds because La Cava is taking you on a flavor-filled rollercoaster with the Social Table Series – American Wine Dinner, happening on July 7th. Prepare yourself for a one-night-only extravaganza of elevated dining, inspired by the grand American BBQ tradition. We're talking about juicy, tender meats like you've never experienced before—Dry Rub Smoked Tenderloin, Pink Salted Beef Skirt, Lime & Lemongrass Smoked Lamb Ribs, Brown Butter Grilled Ribeye, and 12-Hour Burnt End Brisket. As if that weren't enough, we're serving up classic American sharing-style sides, including Cajun Roasted Potatoes, Sauteed Portobello Mushroom, and Grilled Asparagus. And the grand finale? A luscious Camus Affogato Infusion dessert that will make your taste buds sing! All this goodness is accompanied by a handpicked selection of wines from the American Collection, ensuring every bite is a match made in culinary heaven. The Social Table Series – American Wine Dinner is priced at AED 550 per person, so get ready to feast like a true patriot from 8 pm to 11 pm!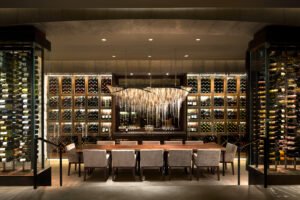 La Cava – The Ultimate Wine Cellar Experience
Welcome to La Cava, the wine lover's paradise nestled within Rosewood Abu Dhabi. This intimate and exclusive wine cellar is a haven for aficionados and explorers alike. Imagine walls adorned with 1,000 premium labels, tempting you to discover the perfect bottle for any occasion. And that's not all! La Cava also boasts a walk-in cigar room, housing a cherished selection of whiskeys. It's the epitome of sophistication and indulgence, a hidden gem waiting to be explored.
Make this Fourth of July a true feast for the senses by joining La Cava at Rosewood Abu Dhabi for the American Collection extravaganza. With delectable cheeses, divine cold cuts, and wines that embody the spirit of America, your taste buds are in for an unforgettable experience. Don't miss out on the Social Table Series – American Wine Dinner, a culinary adventure that will have you savoring every bite.
To reserve your table, contact Rosewood Abu Dhabi at abudhabi@rosewoodhotels.com or call +971 (0)2 813 5550. Get ready to raise your glass, enjoy exceptional flavors, and create unforgettable memories at La Cava. Let's celebrate America's independence in style!
Visit the Website for more details.