In the vibrant and bustling cities of the Middle East, where every street holds a new adventure, the right vehicle can make all the difference. Crossovers and SUVs have become the go-to choice for urban dwellers, offering a perfect blend of style, functionality, and adaptability to tackle the challenges of city life. To guide you in finding your perfect urban companion, here are five crucial tips:
1. Size Matters: Compact and Nimble
In crowded cityscapes and tight parking spaces, a compact crossover or SUV is your best ally. Seek models that offer nimble maneuverability, allowing you to effortlessly navigate through congested streets and busy traffic. The INFINITI QX50 and its sporty sibling, the QX55, strike the right balance between elegance and agility, making them ideal choices for urban explorers.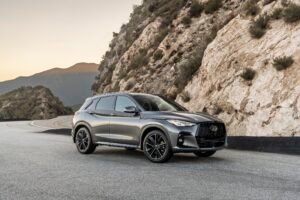 2. Fuel Efficiency: Savings in Style
With fluctuating fuel prices, opting for a fuel-efficient vehicle is a smart move. Look for crossovers or SUVs equipped with modern engines that deliver excellent fuel economy without compromising on performance. The INFINITI QX50 combines spirited driving with efficiency, while the larger QX60 leads the class in fuel efficiency, ensuring a refined drive in all conditions.
3. Safety First: Advanced Features
Safety is paramount in city driving, where unpredictable road conditions and heavy traffic are a daily reality. Prioritize models with advanced safety features like blind-spot monitoring, lane-keeping assist, automatic emergency braking, and adaptive cruise control. INFINITI vehicles offer these features and more through the INFINITI ProPILOT Assist, ensuring you and your loved ones are protected in any urban setting.
4. Stay Connected: Infotainment Excellence
In the tech-savvy Middle East, staying connected is essential. Choose a crossover or SUV with a user-friendly infotainment system that seamlessly integrates with your smartphone, including Apple CarPlay® and Android AutoTM. Easy access to navigation, music, and hands-free calling can enhance your daily commute.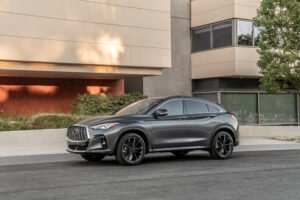 5. Luxury and Comfort: Your Oasis in the City
City life can be demanding, so prioritize a comfortable and luxurious interior for your daily travels. Look for models that offer premium materials, supportive seating, and advanced amenities like dual-zone climate control, a panoramic sunroof, massage seats, and ample space. Models like the QX60 and QX80 bring luxury and comfort to the forefront, ensuring a pleasant journey through the city.
When selecting the perfect crossover or SUV for your urban lifestyle in the Middle East, consider these factors: size, fuel efficiency, safety features, infotainment capabilities, and comfort. By making these considerations a priority, you'll find a vehicle that seamlessly blends into the dynamic urban landscape while providing the practicality and versatility you need for your everyday adventures. Whether you're conquering busy streets or embarking on weekend getaways, your ideal urban companion awaits!
Visit the Website for more details.