Are you ready for a week filled with delightful dining experiences? Jones the Grocer at Emirates Golf Club invites you to embark on a weekly culinary journey that promises to tantalize your taste buds. From Monday night mussels to Steak Frites Thursdays and a comforting British Roast Sunday, this exceptional destination has something special for every food enthusiast.
Ease into the week with an unmissable Monday night special at Jones the Grocer, Emirates Golf Club. Here, you can indulge in a piping-hot skillet of freshly cooked mussels, served with your choice of creamy garlic, Cajun, or chorizo sauce. But that's not all – for a complete meal in one, this flavor-packed feast is served with buttery garlic bread and unlimited fries, ensuring you'll be satisfied down to the last bite. A perfect way to dive into the week with gusto.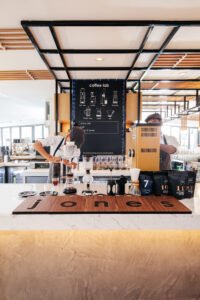 Make a date for an unbeatable dinner offer on Thursdays. Steak Frites Thursdays bring the French passion for perfectly cooked steak and golden fries to the relaxed restaurant. You'll savor a premium Australian steak, grilled to your liking, along with a crisp rocket salad and, yes, unlimited fries. To complement your delectable cut of steak, choose from rich bearnaise sauce, piquant rosemary and green peppercorn sauce, or a zesty chimichurri sauce. It's a French affair that you won't want to miss.
There's nothing more comforting than a traditional Sunday roast. Every week from noon, you can indulge in the ultimate roasted chicken or Australian striploin served with all of your favorite trimmings, including golden Yorkshire pudding and lashings of gravy. There's no better way to wrap up the weekend than sharing a relaxed Sunday roast with those who matter most. It's a timeless tradition that brings people together over a sumptuous meal.
Your week just got a lot more delicious with Jones the Grocer's Weekly Dinner Nights. Whether you're a seafood lover, a steak enthusiast, or crave a classic roast, there's a night for you. Join us at this exceptional culinary destination and savor each evening's unique flavors. Don't miss out on this delectable dining experience – book your table today and treat yourself to a week of gastronomic delights!
Contact Details: Call 04 417 9999 or Email jonesthegrocer@dubaigolf.com
Visit the Website for more details.