Avani Palm View Dubai Hotel & Suites presents La Sirène, an enchanting urban eatery and terrace that transports diners to the heart of Lebanon. Drawing inspiration from Beirut's contemporary café culture and the vibrant Mediterranean cuisine, La Sirène invites guests to indulge in a culinary experience like no other in the captivating city of Dubai.
At La Sirène, the menu celebrates the rich heritage of the Levant region while infusing it with innovative twists. Immerse yourself in an exquisite blend of Lebanese street food classics and modern creations, showcasing the finest flavors of the Mediterranean. The emphasis is on generous portions and shared platters, encouraging guests to savor the culinary diversity that Lebanon has to offer. As the tantalizing aroma fills the air, La Sirène promises a memorable dining experience accompanied by awe-inspiring views of Dubai's iconic skyline, featuring Ain Dubai, Palm Jumeirah, and Burj Al Arab.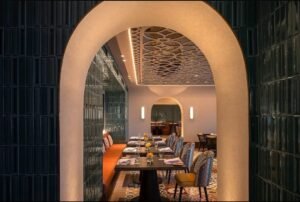 Prepare your taste buds for a gastronomic adventure at La Sirène. Delight in the Lebanese Seabass Sayadiyah, where succulent roasted fish is paired with fragrant rice, crispy fried onions, and an exquisite fish sauce. For a refreshing start, the Tiger Prawns and Avocado Salad offers a harmonious blend of aromatic boiled prawns, creamy avocado mash, and a zesty lemon dressing. The Crisp Red Snapper awaits seafood enthusiasts, showcasing perfectly cooked fish accompanied by a medley of potatoes, onions, artichokes, olives, and a tantalizing array of sauces.
Derived from the French word for 'mermaid,' La Sirène pays homage to Lebanon's deep connection with the sea. This captivating eatery captures the essence of Beirut's vibrant coastal lifestyle and culinary heritage while embracing a contemporary approach. Immerse yourself in the sounds of curated music and entertainment that evoke the golden eras of Beirut. Experience genuine Lebanese hospitality, where warmth and abundance create an atmosphere reminiscent of home. As you dine, admire the vibrant and bold paintings by renowned Lebanese artist Michel Rouhana, who masterfully conveys the spirit of natural phenomena and emotions through his artwork.
La Sirène beckons you to embark on a culinary journey that beautifully blends tradition and innovation. Discover the exquisite flavors of contemporary Lebanese cuisine while enveloped in the warm and inviting ambiance of this remarkable establishment.
Opening Hours: For lunch from 12:00pm to 3:00pm, and Dinner from 6:00pm to 10:00pm.
Contact Details: +971 4 604 2220 ; Email: lasirene.vpvd@avanihotels.com
Visit the Website for more details.