Dubai's gastronomic scene is about to witness an extraordinary convergence of culinary talents as Palazzo Versace Dubai proudly presents an exclusive Four Hands Dinner on the 8th and 9th of September. The world-renowned Michelin Star Chef Mansour Memarian and celebrity Chef Gary Mehigan will orchestrate a night of epicurean excellence, blending flavors from different corners of the globe into a harmonious nine-course set menu. This remarkable event promises an unforgettable dining experience within the lavish ambiance of the award-winning restaurant, Vanitas.
Prepare to embark on a tantalizing journey that spans continents as two culinary titans collaborate for a night of culinary mastery. Michelin Star Chef Mansour Memarian, an innovator in Dubai's culinary landscape, joins forces with the legendary Chef Gary Mehigan, famed for his culinary expertise and television appearances on MasterChef Australia. The duo's creativity will intertwine in a gastronomic dance, resulting in a menu that promises to astound and delight.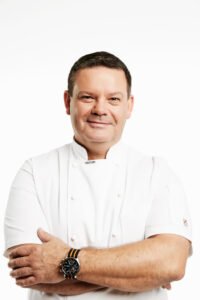 The culinary symphony commences with Uni Brioche with Crustacean Foam or Mushroom Tartlet with Quail Egg and Bearnaise, setting the stage for an evening of flavor harmonies. Carabineros and Sesame Crackers blend with Cantaloupe Melon and Madras Emulsion, leading to a choice between 'Aburi' Yellowtail kingfish with Avocado or Aburi Miso Courgettes with Avocado. The journey evolves with options like Wild Caught Normandy Scallops and Turnip Farci.
The enchanting crescendo of flavors continues with Ricotta & Flinders Truffle Tortellini in Gruyere Cream and Truffle Butter. Line Caught Salmon and Tarragon Puree or Slow Cooked MBS 5+ Wagyu with Celeriac Puree captivate the senses, showcasing the mastery of the chefs. The dessert courses, Sorbetto or White Peach with Champagne and Rose, lead to indulgent choices like Amarena or Pomelo and Cherry Jelly, ending the evening on a high note.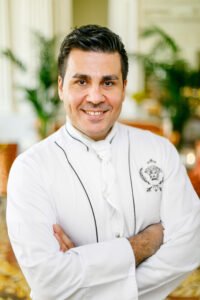 This event transcends a traditional dining experience, promising engaging conversations and the innovative, refined art of dining. The carefully curated option for drinks pairing elevates the evening, presenting a symphony of grape and bubbly that elevate each dish to new heights.
Don't miss this exclusive opportunity to be a part of an exceptional evening of culinary indulgence. Let the culinary wizardry of Chef Mansour Memarian and Chef Gary Mehigan guide you through a symphony of flavors that will leave an indelible mark on your palate. Reserve your seat at this gastronomic affair and savor an evening of delectable food and special grape and bubbly pairings that redefine the art of dining. It's an invitation to a journey where every bite tells a story, and every flavor note sings in harmony!