Prepare for a sonic adventure, Dubai! On September 9th, the heartland of Psytrance is coming to life at the legendary Barasti Beach Dubai, as globally renowned DJs Ace Ventura, Imagine Mars, and Starling prepare to headline the first-ever HillTop Night Music Festival in the city.
Known worldwide for our legendary Psytrance events, HillTop Goa has teamed up with Blisstronic to bring Dubai its biggest musical extravaganza yet. The stage is set, and the city is about to be swept away by electrifying rhythms.
Picture this: the sparkling blue Arabian Sea as your backdrop, Dubai's towering skyscrapers all around you, and the pulse of Psytrance uniting everyone for an epic 9-hour event. Blisstronic promises that this will be an event like no other.
Prepare for a night where music transcends boundaries and connects souls. HillTop Goa Music Festival is known for its unique blend of culture, music, and essence, and it's all coming to Dubai's Barasti Beach Bar. With its vibrant atmosphere and mouthwatering cuisine, this venue sets the stage for an unforgettable experience.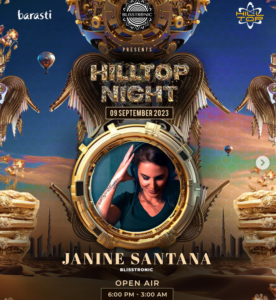 Situated on the coast, Barasti offers breathtaking views that draw in energetic partygoers. It's no surprise that this award-winning bar is a shining star in Dubai's social scene.
HillTop Night aims to showcase a diverse lineup of PsyTrance DJs, bridging the gap between Goa Vibes and Dubai Lands. It's a night of celebrating music as a universal language, transcending boundaries and connecting souls through pulsating beats.
Founders of Blisstronic & HillTop Goa Music Festival share their vision: "Our goal for the Dubai edition of HillTop Night is to create an unforgettable festival experience that unites diverse cultures through the transcendence of music in the desert. It represents our commitment to fostering unity and growth in the global PsyTrance/electronic music community."
Get ready to lose yourself in the hypnotic beats, the vibrant atmosphere, and the transformative power of music at HillTop Night Music Festival by Blisstronic. This event promises to be a once-in-a-lifetime experience that will echo through Dubai's musical history!
For more information about the festival, lineup updates, and ticket details, please visit or follow @blisstronic