Get ready to embark on a flavor-packed journey as Meghana Foods, the renowned biryani destination from Bangalore, opens its doors in the vibrant neighborhood of Karama. Biryani lovers, rejoice! This is your chance to experience the authentic taste of biryani that will leave you craving for more.
For those who believe that biryani is not just a dish but an emotion, Meghana Foods is here to fulfill your culinary desires. Dubai, a melting pot of cultures, has always embraced diverse flavors, but the allure of aromatic, flavorful biryani remains unmatched.
Originating from Bangalore, Meghana Foods has taken the city by storm with its irresistible blend of flavors, richness, and aroma. Now, it's set to captivate the hearts of Dubai residents with its delectable offerings. The brand owners, who consider Dubai their second home, have gone to great lengths to ensure the same level of taste and authenticity is maintained. They have brought down their master chefs and carefully sourced ingredients from India, all to deliver an unparalleled biryani experience.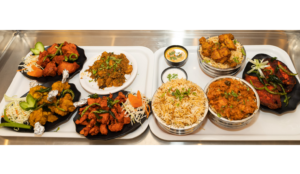 Meghana Foods is not just about biryani; it's a celebration of Indian Hyderabadi cuisine. The meticulously crafted menu pays homage to the region's iconic dishes, with a special focus on vegetarian options to cater to all palates.
Established in 2006, Meghana Foods started with a humble mission to serve authentic Andhra-style food, prepared with quality ingredients and a deep passion for culinary excellence. The name "Meghana," meaning rain, symbolizes the nourishing and refreshing experience their food brings to every diner.
With its arrival in Karama, Meghana Foods invites you to savor the magic of biryani. Delight in the perfect blend of aromatic spices, tender meat, and fragrant basmati rice that will transport your taste buds to new heights. Each bite is a symphony of flavors, meticulously crafted to create an unforgettable dining experience.
Whether you're a die-hard biryani enthusiast or an adventurous foodie seeking new culinary delights, Meghana Foods promises to exceed your expectations. Get ready to embark on a journey of taste, where every spoonful unveils a new dimension of flavor and indulgence.
Don't miss the opportunity to experience the true essence of biryani at Meghana Foods in Karama. Step into a world of culinary bliss, where passion, tradition, and exceptional flavors come together in perfect harmony.
Born out of a genuine love for Andhra-style cuisine, Meghana Foods has become a beloved name in Bangalore since its inception in 2006. With a commitment to quality and a passion for authentic flavors, Meghana Foods has gained a loyal following who appreciate the true essence of biryani and Indian Hyderabadi cuisine.
So, mark your calendars and prepare your taste buds for an extraordinary biryani feast at Meghana Foods in Karama. Indulge in the irresistible flavors and experience the true magic of biryani like never before!
Instagram: @meghanafoods.ae
Visit the Website for more details.