As we approach the scorching summer months in Dubai, Jones the Grocer at Dubai Creek Resort is set to become the ultimate oasis for those seeking a cool and refreshing spot to relax and unwind. With a newly renovated interior that exudes sophistication and style, Jones the Grocer is the perfect place to escape the heat and indulge in some of life's simple pleasures.
For the cheese and wine lovers out there, Jones the Grocer has put together a delectable Cheese and Wine Night every Friday from 7:30pm to 9:30pm. Take in the stunning views of the vibrant golf courses while sipping on imported wine and indulging in unlimited premium cheese. The live Saxophonist will provide the perfect accompaniment to the relaxed atmosphere, making it the ideal spot to kick off the weekend in style.
Jones the Grocer is also proud to announce their all-new Quiz Nights, hosted by the one and only Quiz Master Steve Shore. If you're a trivia buff looking for a fun and exciting night out, then this is the event for you. Taking place every last Saturday of the month from 7pm to 9pm, guests can enjoy a range of classic dishes and drinks from the à la carte menu or opt for the Quiz Meal at just AED99 per person.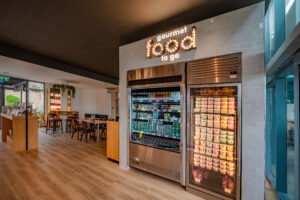 With Steve's quick wit and encyclopedic knowledge, Quiz Nights at Jones the Grocer promise to be a night to remember, with exciting prizes up for grabs. So, whether you're in the mood for a laid-back evening with friends, or a night of friendly competition and trivia, Jones the Grocer at Dubai Creek Resort is the perfect destination. The stunning views, delicious offerings, and vibrant atmosphere make it a must-visit this summer.
To make a reservation for Cheese and Wine Nights or Quiz Nights, contact Jones the Grocer at
04 602 1814 or restaurantreservations@hyatt.com.