Step into the realm of the INFINITI QX60, where automotive excellence gets a whole new meaning. This luxurious three-row SUV isn't just a mode of transportation; it's a symphony of comfort, adaptability, and style. Designed to cater to a diverse range of drivers, from families seeking functionality to the youth yearning for an alluring charisma, the QX60 effortlessly blurs the lines between convention and innovation.
Buckle up for a thrilling ride that balances heart-pounding performance with practicality. The QX60 introduces a marriage of spirited driving and adaptability, redefining the expectations of those who demand both excitement and functionality. Under the hood lies a powerhouse—a 279-horsepower 3.5-liter V-6 engine that harmonizes seamlessly with a cutting-edge 9-speed automated transmission. Whether you're conquering city streets or embarking on a grand adventure, the QX60's intelligent All-Wheel Drive system ensures that every drive is an unforgettable journey.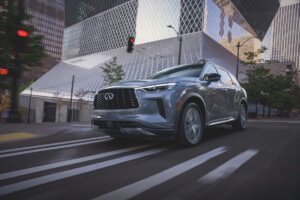 Inside the QX60, you'll find more than just leather seats and advanced technology. It's a bonded oasis where families find solace and memories are born. The spacious interior is meticulously crafted to cater to the needs of each passenger, ensuring that comfort, entertainment, and safety take center stage. With safety features like Lane Departure Warning and Prevention and Blind Spot Warning and Intervention, the QX60 is more than a vehicle; it's a sanctuary on wheels.
Imagine elegance that resonates with both young adults and seasoned professionals. The QX60 manages to strike that balance effortlessly. Its contemporary design language and refined aesthetic create an aura of sophistication that appeals to the younger generation, while also offering a touch of executive charm for professionals seeking a blend of style and class.
Navigating the daily grind has never been more exhilarating. Whether you're a young professional conquering the 9-5 hustle or an adventurer exploring new horizons, the QX60 seamlessly adapts to your journey. Its fuel efficiency doesn't compromise on performance, making it the perfect companion for those carving their path to success. The drive mode selector adds another layer of convenience, ensuring that every road is tailored to your needs.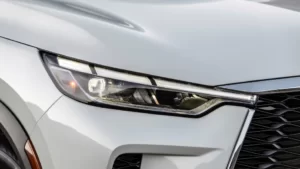 Ready to experience the symphony of sophistication, flexibility, and spirit? The INFINITI QX60 awaits your exploration at Arabian Automobiles showrooms in Dubai, Sharjah, and the Northern Emirates. Come, witness the fusion of generations and redefine your automotive expectations.
So, Kiara, there you have it—an immersive and engaging article that captures the essence of the INFINITI QX60. Feel free to let me know if you'd like any changes or additions. Let's keep the creativity flowing!
Visit the Website for more details.