Get ready to unleash your party spirit and dive into an unforgettable experience at VICE by Bagatelle. On June 8th, this legendary French fine dining hotspot is back with a bang for its second edition, promising an electrifying night filled with pulsating beats and captivating energy. And guess what? DJ Flo Dosh will be there to take the party to a whole new level!
Prepare to have your senses ignited by DJ Flo Dosh, the French maestro known for his electrifying performances. With his chart-topping anthem "Guataqui" racking up millions of streams on Spotify, DJ Flo Dosh is set to create an atmosphere that will keep you grooving all night long. His unique style blends house, techno, Latin, and Afro beats, making it impossible to resist the urge to move your feet.
At VICE by Bagatelle, the experience goes beyond the music. Indulge your taste buds with the restaurant's exquisite culinary creations, expertly crafted to complement the vibrant ambiance. Picture yourself savoring mouthwatering dishes while DJ Flo Dosh, supported by Tim Davis and Alex Lowen, curates a playlist that perfectly matches the energy in the room. It's a sensory delight that will transport you to a world where music and food intertwine.
VICE by Bagatelle is the ultimate party destination, and you're invited to join the festivities. DJ Flo Dosh will ignite the dance floor, infusing it with infectious beats and an energy that is simply contagious. This is your chance to let loose, dance like nobody's watching, and create memories that will last a lifetime. With every beat, you'll feel the pulse of the night coursing through your veins.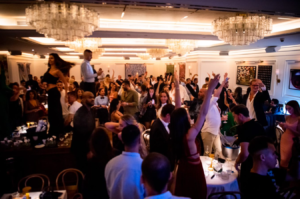 Don't miss out on this epic night of music and delights! Mark June 8th on your calendar and get ready to immerse yourself in an experience that will leave you breathless. The best part? You can enjoy free entrance before 11pm, giving you extra incentive to arrive early and soak up every moment of the unforgettable atmosphere.
It's time to release your inner party animal and join the vibrant celebration at VICE by Bagatelle. DJ Flo Dosh will be your guide on a musical journey that transcends genres, while the restaurant's culinary creations tantalize your taste buds. Get ready to dance, indulge, and connect with fellow revelers as you create memories that will be the envy of all your friends. VICE promises a night of pure joy, where music and delights collide to create an experience that will transport you to a world of pure bliss!
Reservations:  Call +971 4 354 5035 or Email : dubai@bagatelle.com