PAUL Arabia, the celebrated French casual dining restaurant and bakery, is raising the culinary bar in the Middle East and North Africa as it celebrates two decades of delighting diners. Embarking on a journey of gastronomic innovation, PAUL introduces an all-new menu, highlighted by a captivating All Day Brunch section – a first in the brand's history. With over 110 outlets across eight countries, this momentous occasion promises an unforgettable dining experience for patrons across the region.
From its humble beginnings in France in 1889, PAUL has grown into an international sensation, boasting a global presence with more than 750 stores in 51 countries. PAUL Arabia, a jewel in the brand's crown, marked its entrance into the Middle East through Kuwait and the UAE in 2003. Today, its influence spans Bahrain, Egypt, Jordan, Kuwait, Saudi Arabia, Oman, Qatar, and the UAE, captivating hearts and palates alike.
Maxime Holder, the visionary Global CEO of PAUL, exudes enthusiasm for this landmark anniversary, stating, "We are elated to celebrate this momentous milestone for PAUL Arabia. It is a testament to our unwavering dedication to sharing the essence of French cuisine and culture with the Middle East and North Africa. As we embark on this exciting new chapter, we eagerly anticipate expanding our footprint and enchanting our guests with innovative and enhanced dining experiences."
The pièce de résistance of the new menu is the revolutionary All Day Brunch section. Seven distinctive dishes unite global flavors to tantalize taste buds like never before. Among these, the Salmon Croll takes center stage. Poached eggs nestle atop smoked salmon, complemented by tartar cream cheese and peppery rocket leaves, all nestled within a croissant croll. This masterpiece is crowned with PAUL's signature hollandaise sauce and crispy crushed onions.
Adventurous diners won't want to miss the Brunch Burger – a succulent beef patty adorned with turkey, Emmental cheese, fried eggs, candied bacon, and Sriracha Honey Mayo, served on PAUL's signature soft potato bun. The culinary adventure continues with options like the Halloumi Pesto Quinoa, Miso Avocado Toast, classic Steak & Eggs, and vibrant Acai Bowls.
The innovation doesn't stop with brunch. PAUL's revamped menu features a symphony of flavors and textures across all sections. The Crusted Feta Chilli Honey showcases feta cheese enrobed in white and black sesame, drizzled with chili honey, and accompanied by delectable Fougasse bread. Pasta enthusiasts will be captivated by the Shrimp Burrata Rosé – linguini pasta adorned with shrimps, burrata cheese, and a medley of flavors, topped with crispy onions.
For a fusion of flavors, the Corn Ribs Chicken Bowl is a delightful marriage of mozzarella cubes, mango chutney chicken, grilled corn ribs, avocado salsa, edamame, and lettuce, all harmonized with an enticing orange dressing.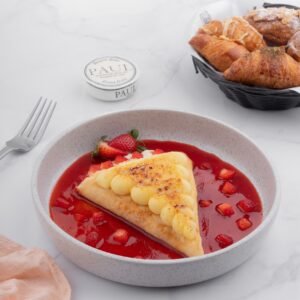 No celebration is complete without indulgence, and PAUL Arabia delivers. The new dessert selection promises heavenly delights. The Apple Tarte Tatin offers a symphony of crunch and sweetness, while the Chocolate Fondant enchants with velvety dark chocolate and luscious ice cream. Chocolate enthusiasts will relish the Chocolate Choux au Craquelin – a perfectly baked chocolate choux filled with tropézienne vanilla cream and adorned with chocolate sauce.
PAUL's take on the classic Pain Perdu and the tantalizing Tiramisu offer guests a journey of flavors. And not to be missed is the Crêpe Tropézienne Brûlée – a delightful French crêpe brimming with creamy decadence and irresistible fruity nuances.
The culmination of PAUL Arabia's 20th anniversary celebration is a harmonious symphony of culinary innovation and excellence, bound to resonate with diners across the region. The new menu can be savored in all PAUL stores across Bahrain, Egypt, Jordan, Kuwait, Saudi Arabia, Oman, Qatar, and the UAE. As PAUL Arabia continues to captivate hearts, it reinforces its legacy as a cherished destination for those who seek to savor the artistry of French cuisine.
Instagram: @paularabia
Visit the Website for more details.