In the heart of Dubai, history is about to repeat itself in a most spectacular fashion. Popleys, a name synonymous with jewelry excellence since its establishment in 1927 in India and later in the UAE in 1993, is set to celebrate a momentous occasion: the wedding of their daughter. But this is no ordinary wedding; it's a sequel to an event that first captivated the world's attention on October 18th, 1994. Now, Sequel 2 is set to make history on November 24th, 2023.
What makes this wedding truly extraordinary is not just its storied family legacy but also the support of the Government of Dubai. Together, they are poised to create an unforgettable experience high above the clouds. Popleys has partnered with Jetex, an award-winning global leader in private aviation, to transform the azure Dubai skies into a celestial backdrop.
Picture this: The world's largest private jet departs from the flagship Jetex Dubai private terminal, carrying Mr. Popley and his family on a journey like no other. More than 1,000 guests, including close family, friends, and dignitaries, will join them on this breathtaking adventure at the Habtoor Palace Dubai, LXR Hotels & Resorts, Dubai.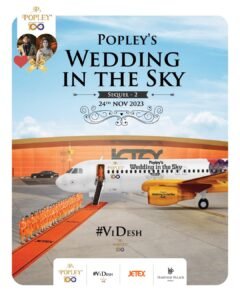 As vows are exchanged, they will be surrounded by endless vistas of clouds and Dubai's iconic skyline. This wedding promises to be a remarkable blend of tradition, luxury, and innovation, a testament to the enduring commitment of the Popley family to creating unforgettable memories.
The Popley family believes in the power of community, media, and industry partners in promoting this extraordinary event. Their goal is to showcase Dubai as the ultimate destination for dream weddings. By celebrating this historic moment high above the clouds, they hope to inspire others to explore new horizons and possibilities in wedding planning.
Mr. Popley himself expresses his joy, saying, "The wedding of my daughter is a joyous occasion that my family and I cherish deeply. We are thrilled to share this incredible experience with our loved ones and the world. Dubai, with its limitless charm, is the perfect setting for such a unique celebration. We invite everyone to join us in making history."
The mission behind this grand event is clear: to showcase Dubai as a unique destination for weddings with unforgettable celebrations. The wedding will feature a blend of Indian traditions, contemporary elegance, and the unmatched hospitality that Dubai is renowned for. From exquisite cuisine to world-class entertainment, every detail has been meticulously curated to create a wedding that will be etched in the memories of all who attend.
In the coming weeks, Dubai's skies will play host to a wedding that will undoubtedly go down in history as a testament to love, innovation, and the enduring spirit of Dubai itself!