Dubai's culinary scene has just become even more enticing with the launch of "Menu Rapide" Business Lunch at The Guild. If you're a food enthusiast, a business professional, or someone looking to escape the hustle and bustle of Dubai's financial district, DIFC, this new offering is bound to captivate your taste buds.
Nestled in the heart of DIFC, The Guild channels the vibrant energy of New York's bustling brasseries. Now, it's inviting discerning guests to savor the essence of European cuisine during lunch hours from Monday to Friday, between 12PM and 3PM, in the elegant settings of The Salon and The Rockpool.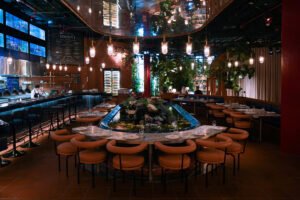 With two delightful Rapide menus to choose from, The Guild caters to every discerning palate. For those looking for a quick but satisfying lunch, the "Tres Rapide" menu offers a main course with either a starter or dessert for just AED 119. If you're in the mood for a more indulgent experience, the "Power Rapide" is your go-to choice, providing a full culinary journey with a starter, main course, dessert, and a delightful Guild house-blended coffee.
The Guild's Menu Rapide brings a range of hearty European classics to your plate. Start your culinary adventure with appetizers like the Foie Gras & Rabbit Confit Terrine, Classic Prawn Cocktail, or the refreshing Ancient Grain Salad.
For the main course, indulge in classics such as Grilled Atlantic Salmon, Slow Roasted Beef Rump, or the delectable Saffron Risotto. Vegetarians can delight in options like the Roasted Aubergine, a meat-free delight.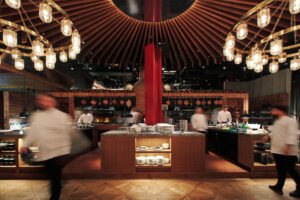 No meal is complete without a sweet ending. The Guild's desserts are sure to satisfy your sweet tooth. Try the Campfire Cheesecake, Tiramisu made with The Guild's own single-origin coffee, or the light Strawberry dessert.
Beyond the culinary delights, The Guild offers a sophisticated and timeless atmosphere, making it the perfect escape amidst the hustle and bustle of DIFC. Whether you're sealing a business deal, catching up with colleagues, or simply enjoying a quiet lunch break, The Guild's Menu Rapide promises to elevate your dining experience.
So, why settle for an ordinary lunch when you can savor European classics at The Guild's Menu Rapide? Indulge in a culinary journey that combines the flavors of Europe with the energy of New York, right here in Dubai's DIFC!
Visit the Website for more details.