The gastronomic landscape of Dubai is about to be graced by a touch of Italian sophistication as Signor Sassi, a venerable Italian restaurant hailing from the heart of London, spreads its culinary wings in the heart of Palm Jumeirah at St. Regis Gardens.
Having established itself as the "Crown Jewel" among Italian eateries since its inception in London in 1984, Signor Sassi is all set to offer Dubai a taste of its signature allure. This expansion marks a significant stride for the brand, promising Dubai residents and visitors an unparalleled dining experience.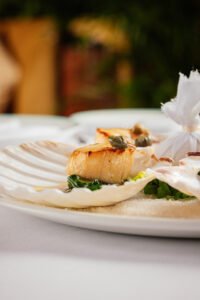 What truly sets Signor Sassi apart is its unwavering commitment to preserving the soul of classic Italian dining while adding a dash of modern flair. Step inside, and you'll be greeted by an environment that pays homage to the opulent villas surrounding Lake Como, characterized by intricate Italian craftsmanship and a carefully curated color palette. Expect to be welcomed with the warmth of Italian hospitality and immersed in a visual feast that celebrates the artistry of Italy.
But Signor Sassi isn't just about aesthetics; it's about savoring extraordinary dishes and indulging in top-tier cocktails. The menu is a testament to their dedication to excellence, boasting a lineup that pays homage to Italy's rich gastronomic legacy. From the tantalizing Lobster "alla catalana" to the comforting Veal Milanese with Potato Sticks, the menu promises a symphony of flavors that will gratify even the most discerning palates. Be sure not to skip their homemade tiramisu or the luscious pistachio gelato for dessert.
What distinguishes Signor Sassi Dubai is the enchanting atmosphere it offers. The restaurant cleverly integrates lush greenery and a flourishing olive tree as its centerpiece, creating a one-of-a-kind dining experience beneath the olive tree's shade. The layout has been meticulously designed to foster an open and inviting ambiance, and in the near future, a sprawling terrace with a fountain will extend the charm for outdoor dining aficionados.
Signor Sassi transcends the boundaries of being just a restaurant; it's a complete lifestyle immersion. On Thursdays through Saturdays, a live DJ sets the mood, enhancing the evening dining experience. Occasional live entertainment adds an element of surprise and delight, delivering a Sassi Style experience that you won't forget.
Be one of the first to experience Signor Sassi's Italian excellence in Dubai. During the initial month, the restaurant will open its doors exclusively for dinner service, from 6 pm to 2 am, with all-day dining service commencing in October.
Contact Details: Call +971 4 278 4848 or Email reservations@seniorsassidubai.com
Visit the Website for more details.