Amazónico is turning up the heat with a brand-new Tropicalia Weekend Parrilla, featuring sultry Bossa Nova tunes that will transport you straight to the sunny shores of Brazil. Prepare to be enchanted by the rhythms of Latin duo, Diego and Giselle, as they serve up an unforgettable musical experience.
Step into Amazónico's lush indoor oasis and let the magic of Tropicalia wash over you. Diego and Giselle, the dynamic Bossa Nova duo, are here to serenade you with their seductive rhythms and soulful melodies. They've taken the iconic Brazilian genre and added a modern twist, promising to leave you in awe.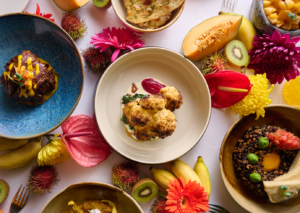 But that's not all; the Tropicalia feast is a celebration of flavors that'll delight your taste buds. Picture this: Pan de Queso, Arepas, and Patacones served with a mouthwatering selection of dips and toppings, including Guacamole, Pulled Veal, and a Chicken Avocado salad. The light and hearty Ensalada de Verano offers a fresh combination of tomato, cucumber, white radish, gem lettuce, and melon, finished with peanut sesame dressing.
For meat enthusiasts, the star of the show is the charcoal-grilled meat selection. Your choices include perfectly cooked Picanha, Brazilian-style grilled rump steak cut tableside, Argentinian Chorizo, Peruvian chili-marinated Baby Chicken, New Zealand Leg of Lamb, and orange-marinated Veal Ribs. If you prefer seafood, the woodfire-cooked Sea Bass is a delightful option, and there's even a bespoke vegetarian menu available upon request.
Complementing Diego and Giselle's soothing musical repertoire, Amazónico's mixologist has crafted a tropical selection of ice-cold Caipirinhas, perfect for a weekend festivity. Vermelhas combines the sweet summer flavors of strawberry, raspberry, and coconut, while Tropicalia offers an exotic twist with maracuja, mango, and anise. If you prefer something with a kick, Caliente features tomato, basil, and chili. To elevate your dining experience, there's a Sommelier's selection of decanted wines for pairing. And for a sweet finish, don't miss Amazónico's ultimate summer dessert, Piña Rostizada, sliced up tableside fresh from the grill and served alongside homemade coconut and vanilla ice cream.
Amazónico also invites you to experience the newly renovated restaurant terrace, a true indoor tropical vibe where you can sip and indulge in the Tropicalia festivities in the comfort of its jungle-inspired setting.
Ready to embark on this sensory journey? Join us at Amazónico's Tropicalia Weekend Parrilla for an unforgettable weekend filled with music, culinary delights, and an ambiance that transports you to Brazil's sun-soaked beaches. See you there!
Visit the Website for more details.