In October 2023, Dubai's beloved Social House reopens its doors at the iconic Dubai Mall, offering patrons a fresh, exciting culinary journey wrapped in a revitalized atmosphere. The buzz in the air is palpable as Social House emerges from its extensive redesign, unveiling a stunning blend of new experiences and a delectable menu.
Nestled on the lower ground level of Dubai Mall, Social House has always been a go-to destination for those who cherish good company and delightful cuisine. Now, it welcomes guests with a brand-new interior design that harmoniously blends understated elegance with culinary finesse. The tranquil green space creates a serene backdrop for connecting with friends and savoring life's joyous moments.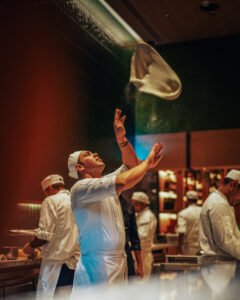 Imagine savoring hand-thrown pizzas, like classics such as Margherita, Burrata, and Truffle, while witnessing the culinary prowess of a woodfire oven. The Pizza Bar at Social House delivers this immersive experience, captivating diners and passersby alike. It's a feast for the senses and a testament to Social House's commitment to delivering the extraordinary.
Social House introduces "The Social Standouts" menu, a collection of mouthwatering delights that include Porcini & Crispy Potato Chicken, 24 Hour Beef Cheeks, Crockpot Truffle Chicken, Bone Marrow Pie, and Miso Wagyu Donburi. These dishes are culinary masterpieces that promise to delight even the most discerning palates.
A new addition to Social House is the chef's sushi table, an authentic Japanese dining experience that transports guests to the heart of Japan. The sleek wooden slabs etched with modern Japanese Kanji characters and the use of Rattan, a local Indonesian material, bridge the gap between contemporary aesthetics and Indonesian heritage. It's a testament to the restaurant's commitment to preserving tradition while embracing innovation.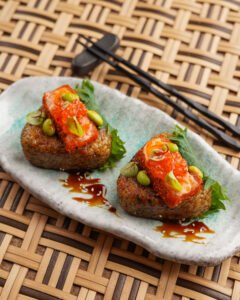 Social House's menu is a captivating fusion of flavors. From A5+ Wagyu beef to the freshness of the Twisted Salmon Sushi Roll, every bite is an adventure in taste. Don't miss the Sushi Tacos featuring spicy Toro Toro tuna or the slowly savored Robatayaki selections, including Oyster Blade Beef, Seabass, Octopus, and Unagi.
Social House eagerly welcomes guests to this dynamic new space, promising a refined dining experience with elevated table service. Prepare for an unforgettable culinary adventure and memorable social connections that await at Social House, Dubai Mall's culinary gem.
The grand reopening of Social House at Dubai Mall isn't just about food; it's about rekindling connections, exploring culinary wonders, and celebrating life's moments in style. Come and experience the new Social House – where every meal is a journey and every moment is cherished!
Visit the Website for more details.