Hangry Joe's, the go-to destination for Nashville-style hot chicken and wings with a Korean twist, is turning up the heat with their sizzling new spice challenge, "Can You Handle the Heat?" This tantalizing contest at the Hangry Joe's Dubai location in City Walk invites diners to put their taste buds to the ultimate test while competing for delectable prizes.
The "Can You Handle The Heat?" challenge presents two mouthwatering options for the daring: The 'Angry Hot Wing Challenge' and the 'Level Up Challenge.'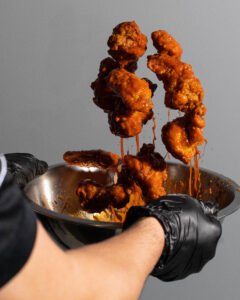 The 'Angry Hot Wing Challenge' is a fiery showdown that beckons participants to devour as many Angry Hot Wings as they can, all in pursuit of securing a coveted spot on the leaderboard. Priced at just 6 AED per wing, this challenge promises an intense, flavor-packed experience that's not for the faint-hearted.
Meanwhile, the 'Level Up Spice Challenge' takes the heat to a new level, daring brave souls to conquer the spice. Participants must consume eight wings, two from each spice level, ranging from mild, medium, hot, to the fiery Angry Hot, all for 45 AED. It's a fiery journey through flavor, and both challenges offer participants a chance to win exciting prizes.
The Dubai location in City Walk doesn't just offer sizzling challenges; it boasts an array of mouthwatering options. From signature Nashville-style chicken sandwiches to crispy wings with a Korean twist, and even Korean chicken nuggets drenched in a luscious soy garlic sauce, the menu caters to every palate. Food lovers and spice enthusiasts alike are in for a delightful gastronomic journey.
If you're a food lover with a spice-loving heart, Hangry Joe's Dubai is the place to be. Take on the "Can You Handle the Heat?" challenges and stand a chance to win attractive discounts and prizes. Winners will also be rewarded with a complimentary drink, a certificate of completion, and a well-deserved spot on the leaderboard.
Hangry Joe's is located in City Walk, Dubai, and is open from 10.00 AM every day. The challenge awaits all those who dare to test their spice tolerance and embark on a flavor-infused adventure.
Instagram: @hangryjoes.ae