Introducing the Volvo EX30, the epitome of Scandinavian design, sustainability, and innovation in the world of small SUVs. Unveiling a bold new direction, this fully electric masterpiece is not only focused on safety and sustainability but also promises to elevate your driving experience through cutting-edge technology and thoughtful design. Prepare to be enchanted by its stylish interior, premium audio quality, intuitive tech, and smart storage solutions, all aimed at making your life on the road more enjoyable and convenient.
Step inside the Volvo EX30, and you'll find yourself immersed in a world of sustainable thinking and meticulous craftsmanship. Embracing the essence of Scandinavian design, the interior boasts a tasteful combination of recycled and renewable materials, including denim, flax, and wool. These responsible design choices not only enhance the cabin's graphic appeal but also signify Volvo's commitment to eco-friendly practices. With a range of expressive colors and textures to choose from, each interior option has a unique personality that will resonate with different drivers.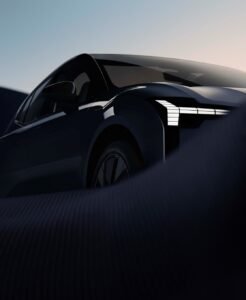 Experience a driving encounter like never before with the Volvo EX30's contextual user experience. Smartly designed to eliminate complexity, the car's interface allows you to focus on the joy of driving while efficiently accessing essential information on a single 12.3-inch center screen. This centralization principle also creates a sense of spaciousness around the driver and contributes to material efficiency.
The EX30 introduces a groundbreaking soundbar that covers the entire width of the dashboard, setting new standards for in-car audio. Drawing inspiration from high-end home audio design, this soundbar unifies multiple speakers, enveloping the cabin in premium sound quality. Furthermore, in harmony with the quest for intelligent design, Volvo has ingeniously removed speakers from the doors, freeing up space for additional storage options.
Volvo's attention to detail shines through in the EX30's array of smart storage solutions. The versatile center console offers a sliding system that adapts to your needs. The cupholder can be easily adjusted to accommodate your latte or smartphone, while the lower tunnel features a dedicated storage area for small items like sunglasses or earpods. The flat floor contributes to the relocation of the glove compartment beneath the center screen, granting both driver and passenger easy access.
Rear passengers are not forgotten when it comes to convenience, as the front seatbacks feature dedicated pockets to store their phones. A clever storage box hidden beneath the center console slides out effortlessly, and the tailgate includes a size guide – ideal for furniture shopping expeditions.
The EX30's infotainment system is powered by cutting-edge technology, integrating Google Assistant, Google Maps navigation, and your favorite apps from Google Play. Enjoy the convenience of wireless Apple CarPlay functionality, a first for Volvo. The car's infotainment system also boasts 5G capabilities, ensuring an ultra-responsive and seamless in-vehicle experience.
Through a joint venture with ECARX, Volvo delivers a globally optimized infotainment platform that reflects the brand's commitment to staying at the forefront of technological advancement.
The Volvo EX30 offers a range of interior 'rooms,' each carefully designed to take a sustainable approach to materials while offering its unique expression. From denim incorporating recycled waste from the denim recycling process to a renewable flax fiber sourced from Bcomp, a responsibly sourced wool blend, and a structured knit seat material using recycled plastic – drivers have a plethora of eco-friendly options to choose from.
In addition to these innovative materials, the EX30 offers Nordico upholstery, a progressive and technically advanced material created from recycled textiles and bio-attributed material from Swedish and Finnish forests.
The Volvo EX30 is a testament to the brand's dedication to pushing boundaries in the realms of design, sustainability, and technology. With its release slated for the first quarter of 2024 in the UAE, the wait for this all-electric Scandinavian marvel will soon be over. Prepare to be enchanted as the Volvo EX30 promises to elevate your driving experience to new heights, combining convenience, innovation, and elegance in perfect harmony.
Instagram: @volvocarae
Visit the Website for more details.