If you're a food enthusiast or just someone looking to spice up their culinary skills, get ready for an explosive adventure as Wagamama proudly presents its Firecracker Chicken cooking classes in Abu Dhabi. This unique opportunity allows aspiring culinary aficionados to master the art of cooking one of the brand's signature dishes – a bold and fiery curry made with sumptuous, vibrant, fresh ingredients, all in a warm and welcoming atmosphere.
Running every Wednesday until the end of November from 7 to 8 p.m., guests are invited to head to one of Wagamama's three iconic Abu Dhabi locations in Khalifa City, Abu Dhabi Mall, or Reem Mall. Don your chef's hat and prepare to cook up a storm bursting with mouthwatering deliciousness.
The star of the show is Wagamama's tantalizing Firecracker Chicken, a signature recipe that has won hearts worldwide. This unique dish boasts three different types of chili, giving it a unique and explosive flavor. Packed with onions, peppers, ginger, and succulent chicken, it's a flavor extravaganza that promises to delight your taste buds.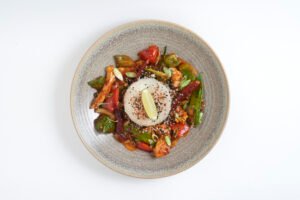 The Firecracker Chicken cooking class is entirely customizable to accommodate dietary restrictions. Vegetarian and vegan options are available for those with different tastes and preferences.
After a 45-minute cooking class, participants can indulge in their own delicious main course, complemented by a refreshing mocktail or soft drink, all for just AED99 per person. With a menu bursting with incredible Asian flavors, Wagamama is the dining destination of choice for an unforgettable and tantalizing meal.
Don't miss this incredible opportunity to enhance your cooking skills and experience the perfect balance of heat and flavor. Spots are limited at each class, so make sure to book in advance. Contact your chosen branch today to secure your place in this culinary adventure—you won't regret it.
Get ready to spice up your culinary journey with Wagamama's Firecracker Chicken cooking classes!
Visit the Website for more details.