After a much-anticipated hiatus, Anása, the renowned Greek alfresco restaurant on Level 6 at Conrad Dubai, is back to mesmerize your taste buds and warm your hearts with the inviting flavors of Mediterranean cuisine.
Anása, like a gentle Mediterranean breeze, beckons guests to embark on a gastronomic journey that celebrates the warmth and richness of Mediterranean cuisine. Under the creative guidance of Executive Chef Ilias Doulamis, the restaurant has refreshed its menu, paying homage to the timeless classics of Greek cuisine while introducing innovative dishes that showcase the culinary diversity of the Mediterranean region.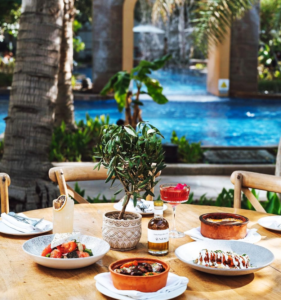 Mouthwatering Classics and Culinary Adventures Imagine savoring the comforting embrace of beloved classics like Mousaka, where every bite transports you to the sun-drenched shores of Greece. But Anása offers more than just nostalgia; it invites you to explore new culinary delights that celebrate the vibrant tapestry of Mediterranean flavors.
An Enchanting Ambiance Anása's ambiance is nothing short of enchanting. Inspired by the beauty of Mediterranean villages and coastal landscapes, it creates the perfect backdrop for gatherings with friends and loved ones. Each visit to Anása is an invitation to relax, unwind, and savor the moment, making it the ideal place to create cherished memories.
An Exceptional Beverage and Dessert Experience To enhance your Mediterranean culinary journey, Anása offers an extensive selection of traditional Greek and Mediterranean beverages, including top-tier wines and craft cocktails infused with the flavors of fresh herbs and citrus. For dessert aficionados, there's a sweet ending with Loukoumades drizzled in Greek honey, walnuts, and cinnamon.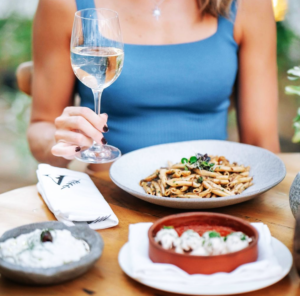 Welcome Back to Anása The Anása team is thrilled to reopen its doors, and they extend their heartfelt thanks to all who supported them during their brief hiatus. They look forward to welcoming you back for another season filled with culinary delights, unforgettable moments, and cherished memories.
So, if you're ready to indulge in the inviting flavors of Mediterranean cuisine, look no further than Anása at Conrad Dubai. Your culinary journey awaits!
Instagram: @anasadxb