Its the festival of lights and joy and Dubai is all set to glitter! To add a little more joy to your festivities, brands across the UAE are giving some amazing offers and gifting solutions. Check out this roundup to find out the best offers:
1. Diwali Festive Season Beauty Deals at Cutting Edge Beauty Salon
This festive season glam up with Cutting Edge with their range of facials such as Fruit facial and Anti-Ageing Facial for AED 99 only. Get a whopping 50% off on all their other facials such as the Gold, Diamond Hydrating, O3+ and Dr Renaud.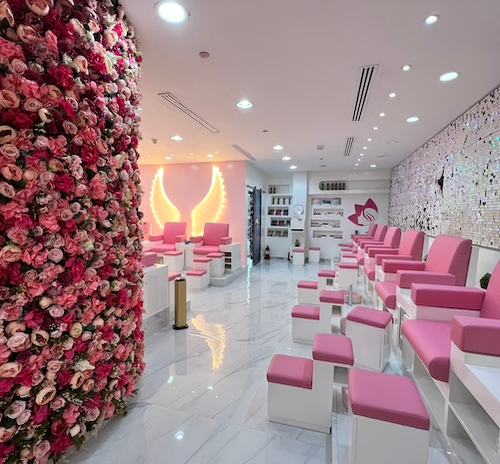 Head to one of three Cutting Edge salons to get your hair done every day for your Teen Patti parties and Diwali get-togethers with Unlimited blow-dries including iron curls including hair wash for just 499 AED which is valid starting 1st October all the way to 31st October.
Have to attend a significant event or hosting one yourself? Get your Hair styled and evening make-up done with you looking ravishing as ever at just AED 199.
2. All Day Long Diwali Celebrations At One Music Lounge
Join One Music Lounge on 23rd October to party all day with their various events. Starting with a bang by calling out all the cricket buffs with India – Pakistan Match Screening. Grab a drink from their Beer Bucket for just 99 AED from 12 pm onwards and cheer on your favourite team.
Once the match is over, indulge in some Diwali high tea which is pure royal bliss with a set menu and live performance between 4 pm to 7 pm. Continue with the celebration and raise the temperature in the evening with their Happy Hours between 7 pm to 9 pm. Menu will be priced at AED 100 per person and 50% discounts for kids under the age of 12
Keep on partying late into the night from 9 pm onwards with another live performance by a different rocking duo band to complete the night. And to more sparkles to your evening, One Music is offering a flat discount of 25% for joining them in the evening!
3. 3-Course Set Menu and Live Music at High Note
High Note Pool & Sky Lounge is offering a Three-Course Set Dinner Menu on the 22nd, 23rd, and 24th of October. Priced at AED 49 for Kids, AED 199 Regular Beverage with the set menu and Family & Groups special price 4 plus pax AED 149 pax regular with 3-course menu. Indulge in good food and good music with Diwali Party on 23rd where you can catch Arun singing Bollywood songs LIVE! Immerse in the breathtaking view overlooking the night-lit capital, only at the High Note Pool & Sky Lounge.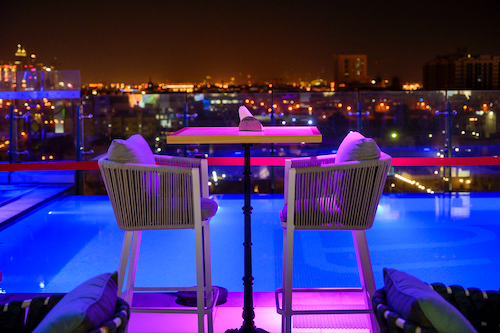 4. Sagar Ratna's Special Sweet Menu
This Diwali spread the sweet happiness with Sagar Ratna's Special Diwali Sweet Menu. The menu includes sweets such as some well-loved Katli's like Kaju Katli, Anjeer Katli, Gulkand Katli and Kesar Katli. Indulge in some cashew sweets such as Kaju Pista Roll and Kaju Dry Fruit Barfi. Relish in other sweets such as Anjeer Patra, Motichoor Ladoo, Coconut Barfi, Rabri Ghewar, and Mawa Barfi to name a few. All these for prices ranging between AED 35 to AED 115. The sweets come in half kg and one kg, so choose the best option for you. Commence your Diwali on a sweet note with Sagar Ratna.
5. Diwali Special Sweet Boxes at India Palace
Express your appreciation for loved ones with unforgettable gourmet Indian Sweet boxes from award winning fine dining Indian restaurant, India Palace. Launched in three variations, you can choose from :
Royal Sweet Box perfect for festive Gifting, priced at AED 200
Classic Sweet Box – an ideal option for corporate gifting, Priced at AED 150 and
Standard Sweet Box that compliments every occasion. Priced at AED 125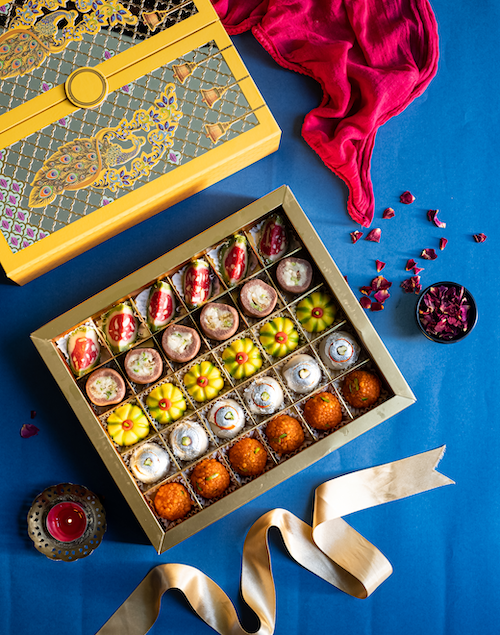 Call at 050 444 6087 to order from any of the 12 outlets across the UAE.
6. Khau Galli's Wide Array of Sweets & Gift Hampers
Impress your loved ones, family, and business partners this Diwali with special Gift Hampers from Indian street food restaurant Khau Galli. Choose from a variety of options that include Indian sweets boxes of premium dry fruit mix mithai in a fancy box and Hampers that are available in a lot of sizes. Indian Sweet boxes start at AED 60 while Diwali Hampers prices start at AED 40 and can be customised to suit individual budgets and choices. Options to have the gift hampers with chocolates, healthy nuts and seeds are also available upon request. This year spread the sweet happiness with Khau Galli.
7. Irresistible Diwali Offers by Peppermill
This Diwali, celebrate with Peppermill as they extend irrefutable offers across their outlets in Dubai and Abu Dhabi. This premium casual dining restaurant is offering deals, that are bound to sway your mind.
Make great savings with their – Flat 30% Discount on Peppermill from 17th to 24th October 2022! Take your chance and test your luck with their 'Spin the Wheel' Offer, where you can win various offers and discounts at multiple outlets of theirs. For Peppermill's loyalty card holders, a flat 50% discount will be applicable from 17th to 24th October, 2022.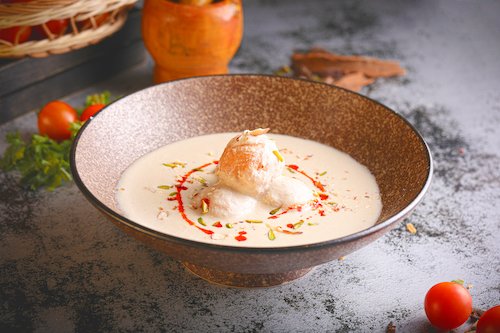 8. This Diwali, Enjoy a Sizzling Meal at Yoko Sizzlers
Head to the UAE's oldest Sizzler joint to indulge in its three course set menu. Starting at AED 85 you'll get any one sizzler, a soup, a dessert and a soft drink. Choose from the wide varieties of veg, meat, beef, prawns or chicken sizzlers.
At Yoko Sizzlers, deep grilled pieces of meat, chicken, fish or vegetable patties are served with french fries, mashed potatoes, mushrooms, tomatoes, carrots and more on a cast iron plate, kept on a wooden base.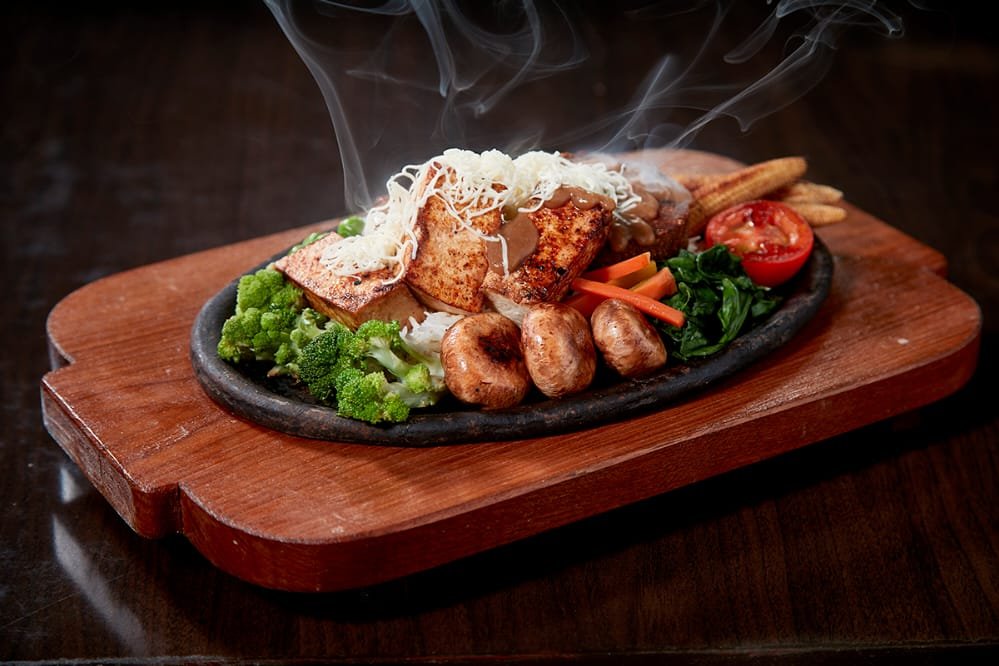 9. Make it a Memorable Diwali at Khyber
Khyber, the award-winning North-Indian restaurant at Dukes The Palm, a Royal Hideaway Hotel, is excited to celebrate this Diwali season with a special menu from 20th to 24thOctober 2022. The festive dining experience will take place every day on the mentioned dates from 5 pm to 11 pm and promises to take guests on a culinary journey through North India, introducing only fresh spices and authentic flavor combinations to the menu.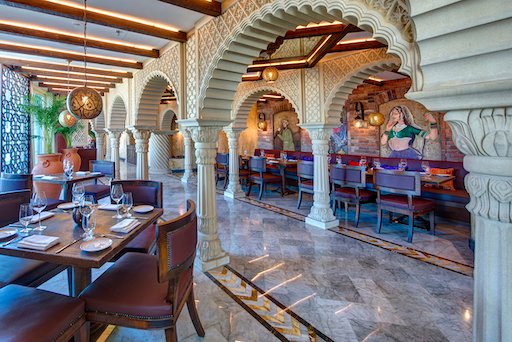 With entertainment and henna art available for guests, the festive spirit will be felt throughout Khyber. Starting at AED 195 per person, families can enjoy a three-course traditional set menu of a lively selection of mouth-watering dishes. A delectable starter platter will kick off the evening along with a Chaat station.
10. Old Castello Jumeirah Is Back with a New Look
Old Castello Jumeirah is now open just in time for Diwali with its brand new look, menu, rocking weekly line-up of live bands, arabic karaoke nights and Live Shisha Show. Starting from 17th October till 24th October, Old Castello in Jumeirah 1 will be serving a set menu from 5pm till 1am.
Priced at AED 120 without Shisha & AED 150 with Shisha, the menu would include a choice of soup, starter, salad, a curry, a birynaim a pizza, a pata, Arabic platter and beverages along with Chef special desserts platter on the house. During this week-long Diwali celebrations at Old Castello, there will be special live band music nights on 18th, 21st and 22nd October.
11. Yas Plaza Hotels set to spark festive joy with special Diwali celebrations
Diwali, the festival of lights, descends at Yas Plaza Hotels with celebrations for good fortune, songs for success and happiness, and sumptuous meals for sharing with family and friends. To make the merry-making even more joyous and colorful, celebrity chef Ranveer Brar from India will take over the kitchen of Rangoli at Yas Island Rotana from 28th to 30th of October.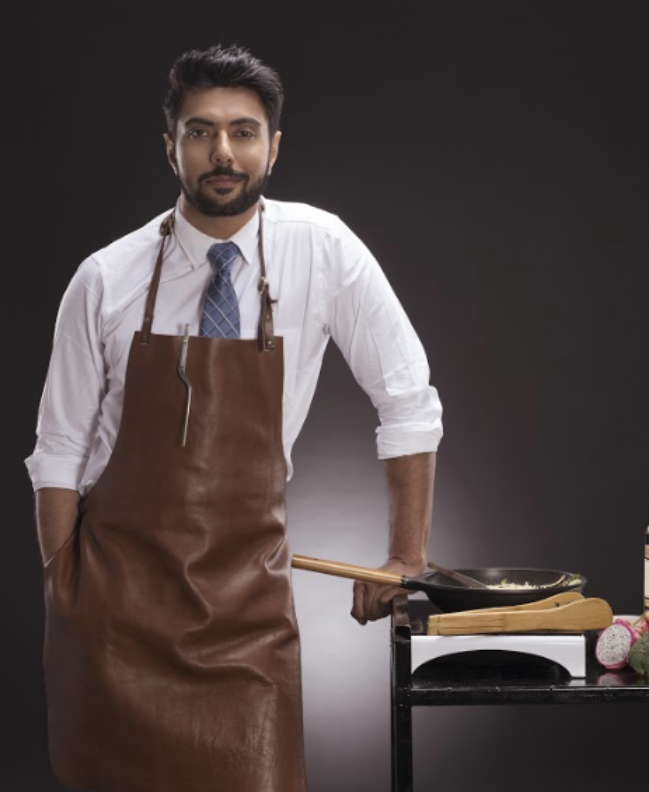 Chef's Table with Chef Ranveer Brar Dinner
Date: 28 – 30 October
Time: 6pm onwards
Price: AED 399 per person
AED 699 per couple
Venue: Rangoli, Yas Island Rotana
Book: 026564000 or +971 55 250 2739
SM Handle: https://www.instagram.com/rangoli_yasisland/
Cooking Contest with Chef Ranveer Brar
Date: 29 October
Time: 3 – 5pm
Price: AED 399 per station
Venue: Crowne Plaza Yas Island, Abu Dhabi, UAE
Book: +971 2 656 2000 | +971555941795 (WhatsApp)
SM Handle: https://www.instagram.com/crowneplazayasisland/
Meet & Greet / Book Signing with Chef Ranveer Brar
Indo-Italian canapés & drinks with personalized signed recipe books giveaway for all guests
Date: 30 October
Time: 4 – 6pm
Venue: Filini Garden at Radisson Blu Hotel, Yas Island, Abu Dhabi, UAE
Book: +971 2 656 2000 | +971555941795 (WhatsApp)
SM Handle: https://www.instagram.com/filinigarden/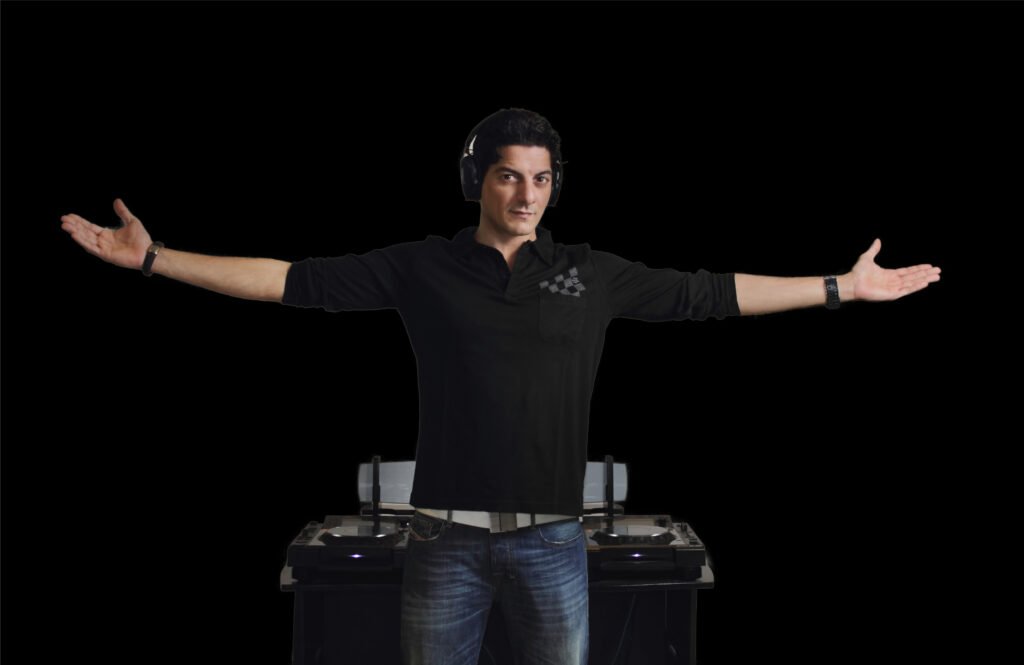 DJ Aqeel & Akhtar Live Performance
Date: 4 November
Time: 8pm onwards
Price: AED149 with three drinks on the house
Venue: Crowne Plaza Yas Island, Abu Dhabi, UAE
Book: 026563000 or +971 50 667 5815
SM Handle: https://www.instagram.com/crowneplazayasisland/
For more information and bookings, contact +971 2 656 3066 or email: info@yasplazahotels.com.
12. Celebrate with a delectable meal at the M One Restaurant
Celebrate the triumph of good over evil and light over darkness with a specially curated Diwali dinner buffet at M One Restaurant, located at Millennium Place Barsha Heights. On 24 October from 7pm to 10:30pm, the all-day dining restaurant invites guests to commemorate new beginnings with their friends and family with India's finest culinary delights.
Priced at just AED 149 per adult, AED 49 for kids between the age of 7 – 12 years and free for kids under the age of 6, guests can enjoy the delicious meal inside the restaurant while tapping their feet to the tunes of the latest Classical Indian music.
13. Bombay Bungalow- Chef's special menu for Diwali
Head over to Bombay Bungalow for a sensory delight this festive and experience the richness, flavors, and culture of India as it introduces a Chef's special menu for Diwali which includes the following where their award winning chefs have crafted a special festive array of dishes to mark the occasion of Diwali.
STARTERS
KHUBANI MAHI TIKKA (NV) AED 58.00
Apricot glazed mahi – mahi fish
JHINGA KALI MIRCH ( NV ) AED 70.00
Pepper- chili spiced prawn
AMBI PANEER TIKKA (V ) AED 40.00
Mango-coriander, cottage cheese
SUBZ GOOLER KEBAB (V ) AED 38.00
Seasonal vegetable galettes, spicy mayo
MAINS
ALOO TAMATAR GOSHT (NV) AED 68.00
Braised tomato and potato mutton curry
TAWA MURGH (NV) AED 50.00
Griddle-pressed chicken with pickle onion
PANEER DO PYAZA (V) AED 52.00
Chargrilled cheese, creamy onion tomato masala
HING DHANIYE K ALOO ( V) AED 38.00
Crushed coriander-asafoetida, spiced potato
STEAMED RICE AED 25.00
BREADBASKET AED 12.00
( Select any 2 )
Naan, Butter naan, Garlic Naan, Roti,Butter roti, Herb butter roti
DESSERT
MYSORE PAK AED 38.00
Slow roast gram flour with chocolate and nuts
JALEBI-PISTA RABRI AED 30.00
Fermented deep fried flour coil with Rabri
14. Celebrate with the renowned Indian Restaurant, Kulcha King
There's no better way to kick off Diwali than with a feast as UAE-based Indian restaurant, Kulcha King is all set to bring authentic Indian flavors from spicy to savory to fusion with the following items that have been crafted for the festive season.
Festivals are all about catching up with your loved ones over your favourite food spread and Kulcha King is bringing you their best dishes to leave a lasting impression on your guests.
Kulcha
Chicken Tikka Kulcha AED 26
Mutton Kheema Kulcha AED 29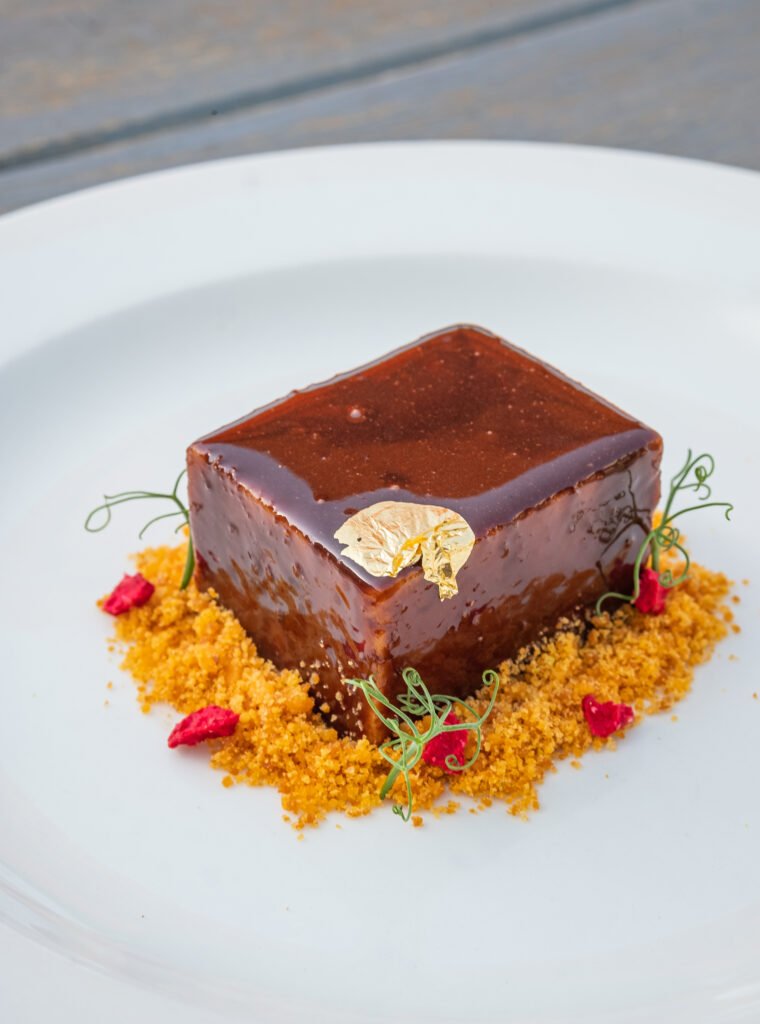 Biryani
Lamb Rogan Josh Biryani AED 46
Chicken Masala Biryani AED 42
Kebab
Hare Bhare Kabab AED 27
Lamb Seekh Kabab AED 37
Curry
Mix Veg Butter Masala AED 27
Mutton Handi Boneless AED 37
Dessert
Phirni AED 14
Rabri AED 14
15. Celebrate Diwali with OliOli
Bring your friends and family together for an extra special Diwali celebration at OliOli®️ from October 22nd to 24th! Join in the fun with a magical light installation and Rangoli centrepiece in our community room & get inspired by the festival of lights to make your own Diwali decorations to take home! OliOli® Diwali workshop is included in All OliOli® Admission tickets.
16. SWISS ARABIAN Heritage Discovery Set
This festive season, embrace the beautiful tradition of gifting fragrances with a luxurious gift set from UAE's leading perfumer, Swiss Arabian.
Inspired by the UAE's heritage and each of its seven emirates, Swiss Arabian's Heritage Discovery Gift Set is ideal for anyone who loves florals and has a soft spot for warm, spicy scents and every scent in between. The beautifully packaged gift set features a full-sized Rose 01 perfume, an invigorating floral fragrance that will instantly transport you to a mystical garden, and eight bottles of oud, amber, musk, and rose fragrances packed in deluxe, travel-friendly sizes, ideal for when you're on the go.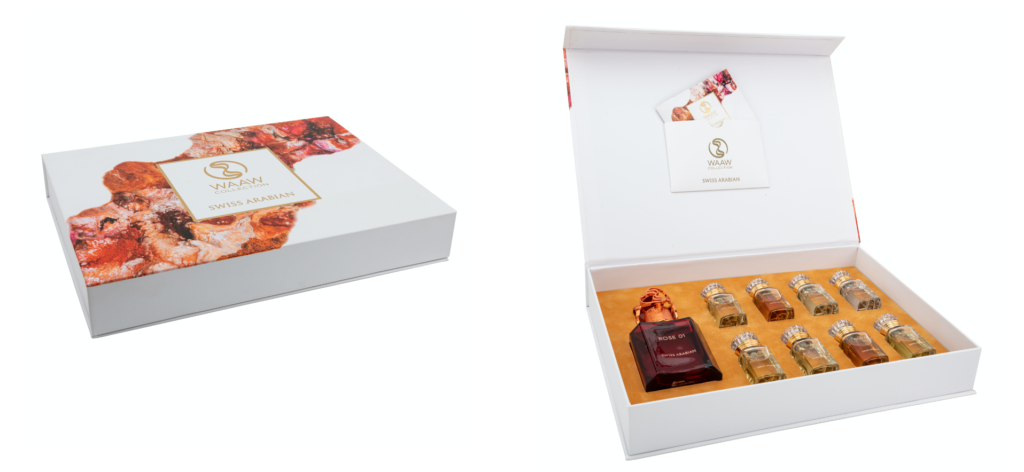 Available to purchase in-stores and online at https://swissarabian.com/
17. FESTIVE BUYS AT WATSONS
There are plenty of reasons to love Diwali. Between holiday parties, family time, and the magical spirit in the air, it's a great excuse to go all out with the jewel tones and glitter in your wardrobe and makeup. From classic cherry lips to out-there neon, Watsons, the region's much-loved Asian beauty concept store, has rounded up all the makeup essentials and tools you need to glam up in style for the festive vibes this Diwali.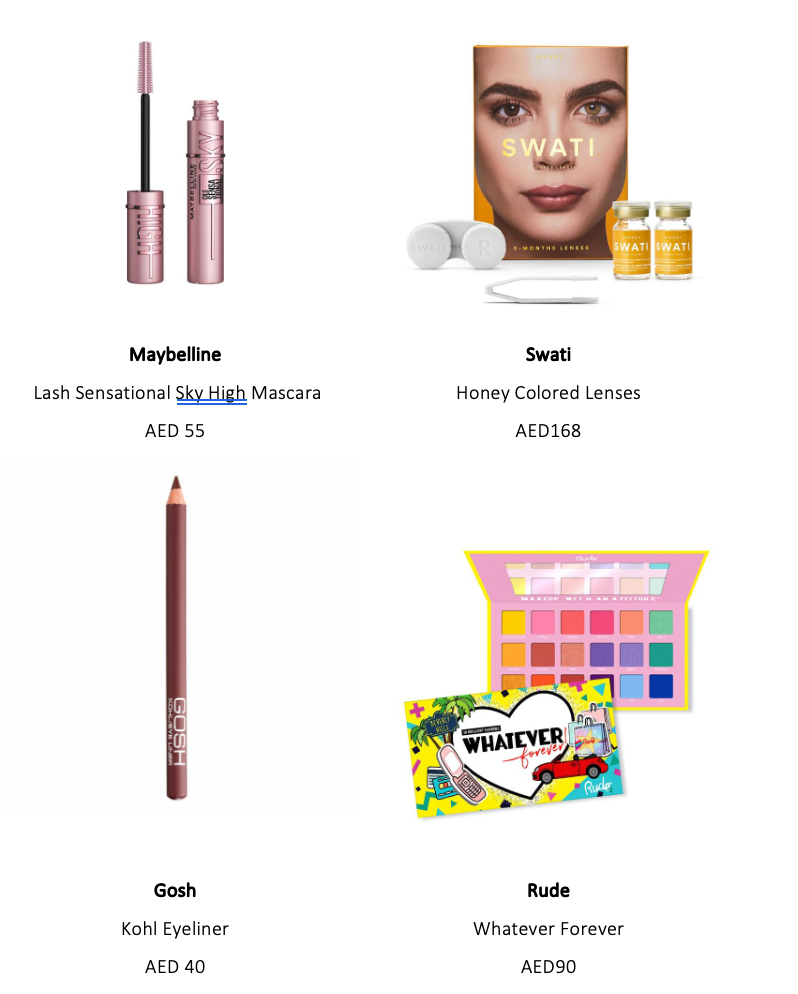 Shop online on www.watsons.ae and in stores in the UAE, Qatar, and KSA.
18. Love All is Titan Watches Message This Diwali
Just in time for an exciting season of gifting, Titan Watches has launched the Raga Love All collection in the UAE.
he collection features watches with signature multifaceted mineral glass, beautiful mother of pearl dials and multi-coloured hands to showcase the essence of togetherness. Some of the pieces have interchangeable bracelet links of various cuts, shapes, and sizes beautifully representing the Love All concept. With the straps embracing bracelet type fitments and dual-tone crystals, these watches serve as a statement accessory that is certain to be noticed.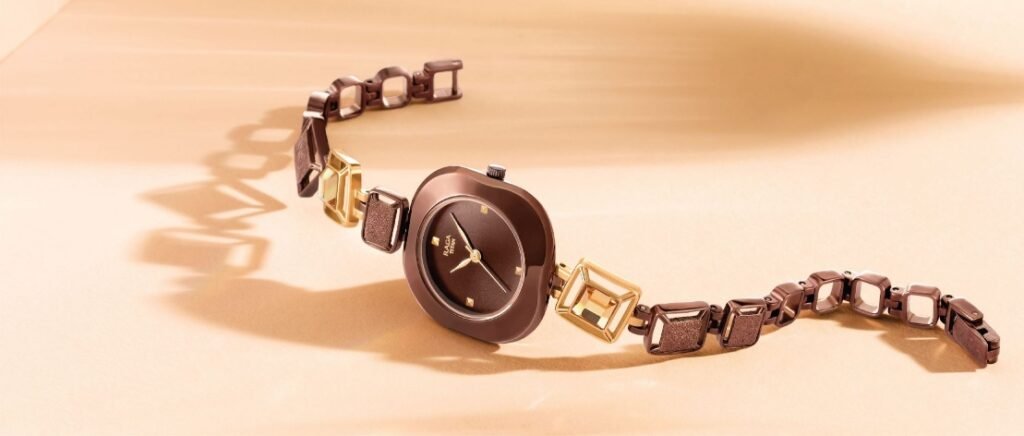 Prices for the Titan Love All collection start at AED 325 and the watches are now available at Titan retail outlets across UAE, select Hour Choice stores, leading department stores, online marketplaces, and authorized retailers.
To commemorate the festive season, customers can enjoy 30 percent off on all watches as well as a gift with any purchase from now until the 31st of October.