Al Safadi, the renowned Lebanese restaurant chain, is taking significant steps towards sustainable dining with a strategic partnership with Switch Foods, a UAE-based FoodTech start-up. This exciting collaboration is set to change the landscape of Lebanese cuisine by introducing four delectable plant-based dishes to the menu, emphasizing local sourcing for a reduced carbon footprint.
Al Safadi, a beloved name in the UAE's culinary scene, is embracing the future by incorporating plant-based meat alternatives into its offerings. These innovative dishes – Fried Kibbeh, Kabab Khashkash, Lahem Beajine, and Hummus with meat and fries – represent a fusion of traditional Lebanese flavors and a sustainable approach to dining.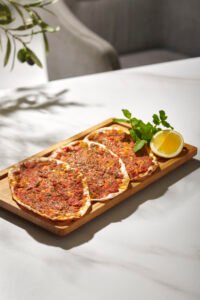 This partnership signifies Al Safadi's commitment to a more sustainable future, aligning perfectly with the UAE's "Year of Sustainability" theme. By sourcing its plant-based meat locally from Switch Foods, located in KEZAD, Al Safadi is taking an eco-friendly stance in its culinary journey.
Fadi Safadi, CEO of Al Safadi Restaurants, expressed his enthusiasm, saying, "This initiative marks a significant milestone in our journey towards becoming a more environmentally conscious brand. Furthermore, it also highlights our commitment to culinary innovation as we jointly explore incorporating plant-based meat alternatives into traditional cuisines."
Fadl Safadi, Al Safadi COO, added, "Many Lebanese dishes traditionally feature meat, and we recognize that there is a growing populace opting for a meat-free lifestyle. Working with Switch Foods, we hope to re-introduce the essence of local cuisines in a way that is both plant-based and familiar. Ultimately, this means more choices for our diners, who are increasingly embracing sustainability as an essential aspect of their dining experience."
Switch Foods, a homegrown UAE-based FoodTech start-up, is at the forefront of this culinary innovation. They offer 100% clean-label meat alternatives that respect well-being and the environment. By partnering with Al Safadi, they aim to empower individuals to embrace a healthier lifestyle without compromising the authentic flavors of regional dishes.
Edward Hamod, Switch Foods Founder & CEO, believes this partnership sets a new benchmark for sustainability in the UAE's dining scene. "Al Safadi is set to offer a conscious dining experience that respects our environment and aligns with the values of a healthier, more sustainable future. We are proud to be chosen by the brand to take this step towards reshaping the gastronomic landscape with ethical and sustainable options."
The new menu introduces plant-based meat substitutes from Switch Foods into beloved Lebanese favorites. Guests can savor crispy fried Kibbeh, mouthwatering Kababs, tangy Lahem Beajine, and silky-smooth hummus, all expertly paired with meat alternatives. These dishes offer a delightful alternative to the rich and flavorful Lebanese cuisine.
Sustainability meets culinary excellence at Al Safadi, as they partner with Switch Foods to offer a conscious and innovative dining experience. It's a journey that promises to respect traditions, well-being, and the planet. Don't miss the chance to explore this exciting blend of flavors and values on your next visit.
Instagram: @alsafadirestaurants
@switch_foods
Visit the Website for more details.