Alfa Romeo, in partnership with Gargash Motors, has brought a wave of excitement to the UAE automotive scene with the official unveiling of the 2024 Alfa Romeo lineup. Featuring the stunning new Tonale, the timeless Giulia, and the versatile Stelvio, these vehicles are set to redefine the driving experience in the region.
At the heart of this launch is the all-new 2024 Tonale, marking Alfa Romeo's bold entry into the fiercely competitive compact SUV segment. This dynamic vehicle is poised to make a significant impact, boasting Italian design excellence, craftsmanship, and a host of distinctive features that set it apart within its class.
With a choice of two trims, Ti and Veloce, the Tonale caters to a wide spectrum of preferences and driving requirements, offering a seamless fusion of style, performance, and cutting-edge technology. From its sleek satin chrome V front bezel to the sporty black cloth upholstery and start button on the leather steering wheel, the Tonale defines elegance and innovation.
Morgan Sunderland, General Manager at Gargash Motors, emphasized the commitment to customer satisfaction, extending beyond the purchase of a car. "Alfa Romeo's range for 2024 is genuinely designed to go above and beyond what our customers expect," he stated.
Jo Moursi, Head of Italian Brands, Stellantis Middle East, highlighted the significance of this launch for the UAE market. "Our illustrious history in motorsports, particularly in Formula 1, strongly resonates with UAE drivers," she noted. "Thanks to our partner Gargash Motors, we are enhancing the ownership experience by offering unique after-sales service, including a seven-year service and warranty package."
The 2024 Giulia and Stelvio represent the pinnacle of Alfa Romeo's dedication to design and engineering. With unique finishing touches to their iconic front grilles and cutting-edge technology, these models offer both a connected experience and the trademark pleasure of driving an Alfa Romeo.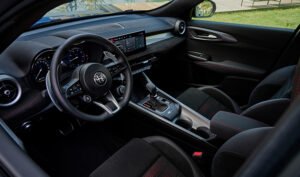 When it comes to driving dynamics, the Alfa Romeo Giulia and Stelvio stand out as best-in-class within their segment. Precision, agility, and responsiveness are at the core of their exceptional performance.
In addition to the lineup, Alfa Romeo recently announced the revival of its legendary 33 Stradale, a symbol of Italian sportsmanship. This exclusive "two-seater" coupé embodies the brand's heritage and future in terms of style and driving experience, making it a true collector's item.
As the 2024 Alfa Romeo lineup takes center stage in the UAE, it signifies not only the brand's evolution but also its commitment to delivering an unparalleled driving experience that merges the past, present, and future of automotive excellence. With the unveiling of these remarkable vehicles, Alfa Romeo invites UAE drivers to embark on a journey of style, performance, and innovation like never before!
Visit the Website for more details.