Atelier House Hospitality and Tashkeel are about to unveil a culinary masterpiece that celebrates the essence of Arab and Emirati culture. Named "Gerbou," which means 'Welcome to my Humble Abode' in Arabic, this sustainable, farm-to-table restaurant concept is set to take Dubai by storm. Let's explore what makes Gerbou an extraordinary addition to the culinary scene.
Gerbou represents a beautiful blend of tradition and modernity. It's a collaboration between Atelier House Hospitality, known for their culinary innovation, and Tashkeel, a visual art and design consultancy rooted in the UAE. The restaurant's interior is a testament to this fusion, with custom design pieces created by UAE-based designers commissioned by Tashkeel.
But it's not just about aesthetics. Gerbou dives deep into the traditional roots of Arab and Emirati culture, thanks to consultation with Emarati Chef Sahar Al Awadhi, who has personalized recipes presented in a contemporary and meaningful setting.
At the heart of Gerbou's culinary experience is Chef Ionel Catau. With a wealth of international expertise, Chef Catau promises a celebration of Arab and Emirati cuisine infused with international flavors. The menu highlights locally sourced, organic, and sustainable ingredients. It's a harmonious fusion of culinary techniques and cultural essence, resulting in a dining experience that caters to the modern, well-traveled palate.
One unique aspect is the incorporation of outdoor underground pit cooking, infusing dishes with distinct smoke-infused flavors reminiscent of Emirati gastronomy's time-honored traditions. This interactive approach promises to captivate food enthusiasts, taking them on a delightful journey through the flavors and history of Emirati cuisine.
Gerbou is not just about tantalizing taste buds; it's also dedicated to sustainability. Chef Catau's commitment to using the best of Arab and Emirati cuisine while respecting cultural traditions aligns perfectly with Gerbou's values.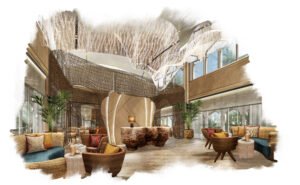 Panchali Mahendra, President of Atelier House Hospitality, believes that Gerbou, under Chef Catau's guidance, will set a new standard for dining in the UAE. It's a vision that combines culinary excellence with cultural appreciation.
Beyond the food, Gerbou offers an indoor-outdoor setting shaded by indigenous Ghaf trees, providing an ambiance deeply rooted in UAE history. It's more than a restaurant; it's a welcoming, soulful, and experimental space where visitors can savor exceptional food, explore contemporary art in the adjacent gallery, and create lasting memories.
Mark your calendars! Gerbou is set to open its doors at the beginning of January 2024. Get ready to embark on a culinary journey that celebrates the rich heritage of Arab and Emirati culture while embracing sustainability and innovation. Gerbou is more than a restaurant; it's a cultural experience waiting to be savored.
Visit the Website for more details.