Prepare for an extraordinary cinematic extravaganza as the International Indian Film Academy and Awards (IIFA) returns with its 23rd edition to Yas Island, Abu Dhabi. Taking place on May 26th and 27th, 2023, this year's IIFA Awards, hosted by the Department of Culture and Tourism – Abu Dhabi (DCT Abu Dhabi) and Miral, is poised to captivate audiences with a star-studded lineup and an unforgettable celebration of Indian cinema.
The anticipation for this grand event is reaching new heights, with National Award-winning actors Vicky Kaushal and Abhishek Bachchan eagerly stepping up to fulfill their hosting duties at the IIFA Awards. Both Vicky and Abhishek expressed their excitement about returning to Yas Island and their anticipation of the unforgettable moments that lie ahead.
Vicky Kaushal, known for his stellar performances, said, "Finally, the countdown to IIFA has begun. My journey with IIFA has been tremendously exciting over the years, and I can't wait to be on stage and co-host IIFA Awards 2023! YAS Island, here we come!"
Abhishek Bachchan, the charismatic star, added, "As we approach the biggest Indian celebration, I am thrilled to return to the wonderful people of Yas Island, Abu Dhabi. It will be an absolute pleasure and honor to entertain and meet fans from all over the world. Looking forward to hosting the IIFA Awards."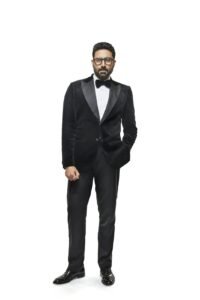 The Etihad Arena, the Middle East's largest state-of-the-art indoor entertainment venue, located in the picturesque Yas Bay Waterfront, will set the stage for this grand celebration. Alongside Vicky Kaushal and Abhishek Bachchan's charismatic hosting, the IIFA Awards will feature captivating live performances by some of Bollywood's biggest stars, including Salman Khan, Varun Dhawan, Ayushmann Khurrana, Kriti Sanon, Jacqueline Fernandez, Nora Fatehi, and Rakul Preet Singh.
But the festivities don't end there! The night before the IIFA Awards, audiences can witness the energy and excitement of IIFA Rocks, a captivating musical extravaganza. This year, the event will be hosted by the renowned Farah Khan, known for her irrepressible wit, along with the talented actor Rajkummar Rao. The stage will come alive with electrifying performances by music maestros such as Amit Trivedi, Badshah, Sunidhi Chauhan, Nucleya, Mika, and Sukhbir Singh.
The IIFA Awards 2023 promises to be an unforgettable experience, showcasing the best of Indian cinema while captivating audiences with sensational performances and unforgettable moments. Join us as we embark on this journey of glamour, entertainment, and the celebration of the rich tapestry of Indian cinema on the stunning shores of Yas Island, Abu Dhabi!
To be a part of this unmissable celebration, secure your tickets here and be prepared to witness the magic unfold at the IIFA Awards 2023 on Yas Island, Abu Dhabi.
Visit the Website for more details.