Prepare yourself for a feast like no other as COYA Abu Dhabi invites you to embark on a vibrant and enticing culinary journey with their all-new Summer Brunch! Get ready to indulge in an explosion of flavors, free-flowing refreshing beverages, and non-stop entertainment that will have you dancing in your seat.
Step into the mesmerizing world of COYA Abu Dhabi, where every detail has been carefully crafted to ensure you have the best summer of your life. Set against the stunning backdrop of the city skyline, you can choose to dine in the elegant indoor dining room or bask in the cool waterfront breeze on the air-conditioned terrace. Whichever you choose, prepare to be captivated by the rich culinary culture of Peru.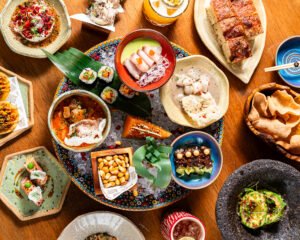 The excitement begins at the trendy Pisco Bar, where you'll be transported to the cozy bars of Lima. Imagine sipping on tantalizing Peruvian-inspired cocktails while sampling mouthwatering canapés, all while being serenaded by the soulful tunes of the talented singer Andea and the infectious beats of COYA MUSIC DJ Dani Zavera. The atmosphere is electric, setting the stage for an afternoon of sophistication and unforgettable memories.
As you make your way to the dining room, prepare your taste buds for a symphony of flavors. Start with a bowl of aromatic soup and COYA's famous signature guacamole. Then, dive into a tantalizing selection of Peruvian bites that will leave you craving for more. From chicken bao buns to Salmon aburi nigiri, creamy burrata to balsamic spinach salad, and a variety of ceviches that will transport you to the shores of Peru, each bite is a journey in itself.
But the adventure doesn't stop there. You'll have the difficult task of choosing a mouthwatering main course. Will you go for the succulent corn-fed baby chicken with panca chili, the indulgent Lobster Iron Pot, or perhaps the grilled salmon or Wagyu sirloin? Whatever you decide, it will be accompanied by a side of sweet and satisfying grilled corn that will leave you craving for more.
And let's not forget about the grand finale—the COYA dessert platter. Prepare to be dazzled by a selection of sweet delicacies that will make your taste buds sing with joy. Indulge in fresh churros, chocolate lollipops, milk cake, wild berry flan, and pina colada popsicles that will transport you to dessert heaven.
But wait, there's more! COYA Abu Dhabi's Summer Brunch is not just for adults. Bring the whole family along, because there's a dedicated children's menu that offers a selection of Peruvian appetizers specially crafted to suit younger palates. Now everyone can join in on the fun!
Of course, what's a brunch without the perfect libations? COYA's expert mixologists and bartenders are on hand to keep the party going with specially curated cocktails. Sip on the refreshing Solar Spritz, a Peruvian twist on the classic Italian spritz, or indulge in the Margarita Amarilla, a tantalizing upgrade to the iconic Mexican Margarita. And there's more, from the Mediterranean-inspired Mora Tonic to the fruity Chakana, there's a drink for every taste that will keep you refreshed and energized throughout the brunch.
For those seeking an extra touch of luxury, you can also treat yourself to premium sparkling Champagne, with exclusive discounts available for brunch guests on selected bottles. Go ahead, celebrate in style! To add to the excitement, live entertainment and DJ Dani's infectious beats will keep the energy high throughout the brunch. Get ready to dance, laugh, and make memories that will lasta lifetime. COYA Abu Dhabi's Summer Brunch is not just a meal; it's an experience that will leave you buzzing with excitement.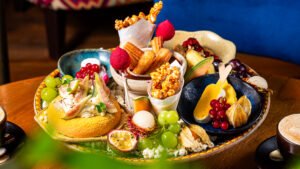 Mark your calendars because the COYA Abu Dhabi Summer Brunch will be available every Saturday from July 8 to August 26, starting at 12:30 pm and lasting until 5:00 pm (food last order at 4:30 pm). Packages start at AED 398 for soft drinks and AED 548 for house beverages (Champagne served à la carte). Children aged four to twelve can join in on the fun for AED 180 (main course not included). Please note that Fin de Semana will no longer run on Saturdays, concluding on July 2nd.
Get ready to dive into a world of flavors, dance to the rhythm of COYA MUSIC, and create unforgettable memories at COYA Abu Dhabi's Summer Brunch. It's time to elevate your brunch game and experience a summer celebration like no other. Join us and let the festivities begin!
This is an event you don't want to miss, so make your reservations now by calling +971 2 306 7000. Be sure to secure your spot at the hottest brunch in town!
Instagram: @coyamusic
Visit the Website for more details.