International Yoga Day is just around the corner, and Danube Sports World is gearing up to celebrate this global phenomenon with a rejuvenating evening of wellness. On Wednesday, June 21, join us for a free-to-attend yoga session led by renowned Indian yoga guru, Ram, along with Anis Sajan, Vice-Chairman of Danube Group and a dedicated yoga enthusiast. This event not only offers an opportunity to partake in a one-hour yoga session but also presents exciting giveaways, nourishing food, and a chance to connect with like-minded individuals. Get ready to immerse yourself in the positive energy of International Yoga Day at the expansive Danube Sports World located on Sheikh Zayed Road, Dubai.
International Yoga Day, celebrated annually on June 21st, is a global initiative that highlights the physical, mental, and spiritual benefits of practicing yoga. Recognizing the transformative power of this ancient practice, the United Nations declared June 21st as International Yoga Day in 2014. Since then, people around the world come together to honor yoga's profound impact on well-being and its ability to foster harmony and balance in individuals and communities.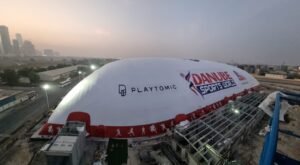 On this special occasion, Danube Sports World invites you to experience the essence of yoga under the guidance of esteemed yoga guru, Ram. Regardless of your experience level, whether you are a beginner or an experienced yogi, this wellness session is designed to cater to all skill levels. With Ram's expertise and Anis Sajan's passion for yoga, you can expect an uplifting and transformative experience.
The yoga session will take place in the state-of-the-art facilities of Danube Sports World, known for its vast air dome spanning over 200,000 sq ft, making it the largest in the UAE. Equipped with World Padel Tour courts, indoor cricket courts, badminton courts, indoor football pitches, tennis courts, and more, this facility caters to sports enthusiasts of all ages. Amidst this dynamic environment, you will find the perfect setting to align your mind, body, and spirit.
In addition to the yoga session, Danube Sports World has prepared exciting giveaways to make this event even more memorable. Lucky winners will have the chance to receive Danube-style prizes that will add an extra touch of excitement to the evening. Furthermore, delicious juices and nourishing food will be available to replenish and nourish your body and soul, ensuring you leave feeling refreshed and rejuvenated.
Beyond the physical practice, this celebration of International Yoga Day presents a unique opportunity to connect with like-minded individuals who share a passion for wellness. Embrace the positive energy that permeates the event, foster new friendships, and build a supportive community.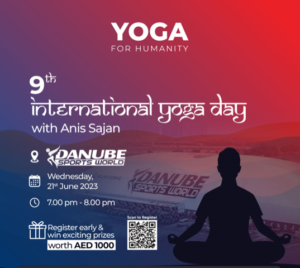 To secure your prime spot at this rejuvenating event, simply RSVP by visiting the following link: https://yoga.danubeproperties.ae/. Don't miss out on this incredible experience; register early to ensure your participation.
Join them on June 21st as to honor International Yoga Day, celebrating the universal practice that promotes well-being and self-discovery. Immerse yourself in a transformative yoga session led by Ram and Anis Sajan, and embrace the positive energy that flows through Danube Sports World.
Instagram: @danubesportsworld
Visit the Website for more details.