Get ready to ignite your taste buds because Dave's Hot Chicken, the LA-born sensation known for its Nashville-style hot chicken, has just made its fiery entrance into Dubai Mall. As of today, October 5, Dave's Hot Chicken is set to become Dubai's go-to destination for those craving bold flavors and unforgettable fried chicken experiences.
Nestled on the second floor of Dubai Mall, this 48-cover branch offers a spectacular view of the ice rink, providing diners with the perfect backdrop to enjoy their tantalizing menu offerings. Dave's Hot Chicken isn't just another fast-food joint; it's an immersive culinary journey that's captured the hearts and appetites of food enthusiasts from LA to Dubai.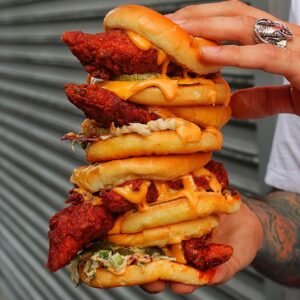 Backed by none other than the music sensation Drake, Dave's Hot Chicken is more than just a restaurant; it's a culinary phenomenon. This Drake-backed sensation has taken Dubai by storm, catering to fried-chicken lovers with a menu that includes classics like Dave's #1 and #2, succulent tenders, and delicious sliders, all served with crinkle-cut fries and Dave's secret sauce. But there's more! The Hot Box is a new addition that gives diners the power to choose from 10 jumbo-size sliders or 10 jumbo-size tenders, all with customizable spice levels, from "No Spice" to "Reaper®" – made with the Carolina Reaper Pepper, the world's hottest pepper (be warned, it's not for the faint-hearted and requires a waiver!).
Dave's Hot Chicken Dubai Mall branch is here to satisfy your cravings. It's open every day, offering its mouthwatering delights from 11:00 AM to 12:00 AM on weekdays and extending the culinary adventure until 1:00 AM on weekends.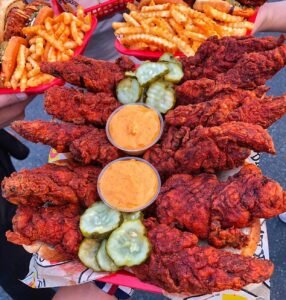 Walid Hajj, Co-founder and CEO of Lavoya Restaurant Group, the driving force behind Dave's Hot Chicken in Dubai, expressed his excitement about the new flagship store, saying, "Our focus with Dave's Hot Chicken has always been about providing an unmatched experience that our consumers won't get anywhere else, and our Dubai Mall store will do just that. We look forward to welcoming you all."
Dave's Hot Chicken's arrival in Dubai Mall isn't just about fried chicken; it's about delivering an exceptional dining experience. Known for their commitment to sustainability and immersive dining, Lavoya Group's expansion of Dave's Hot Chicken is set to solidify their reputation as innovators in the culinary scene. With two successful branches already in Dubai, this new addition promises a unique and unforgettable journey for both locals and tourists.
Are you ready to spice up your day at Dave's Hot Chicken? Dubai Mall awaits your taste adventure!
Instagram: @daveshotchickengcc