Al Seef Heritage Hotel, Curio Collection By Hilton, is beckoning you to embark on a captivating culinary journey through the heart of Arabia with its brand-new Arabian Night at Sabaa Restaurant. This enchanting experience promises to immerse you in the vibrant tapestry of Arabian culture, boasting a tantalizing Arabic Style Buffet every Saturday for just AED140 per person, complete with refreshing beverages.
The menu at Sabaa Restaurant pays homage to the rich tapestry of Arabian culture, promising a feast that will tantalize even the most discerning palate. Begin your culinary adventure with a delightful selection of hot and cold Arabic Mezze, including classics like Hummus, Tabbouleh, Fattoush, Cheese Sambousek, and Lamb Kibbeh. Warm your taste buds with a choice of Arabic Lentil Soup or Vegetable Harira Soup.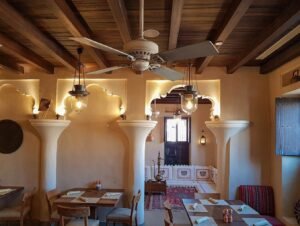 For the main course, prepare to be wowed by the culinary prowess of Sabaa's talented chefs. Delight in mouthwatering dishes such as Chicken Mansaf, Eggplant Moussaka, Roast Baby Potatoes, and more. The grill station offers succulent options like Lamb Seekh Kebab, Chicken Shish Tawouk, and Beef Kofta.
Those with a sweet tooth are in for a treat. Indulge in a tempting array of desserts, including handmade delights like Umm Ali, Kunafeh, and Luqaimat. If you're a fan of baklava and fresh fruit, Sabaa Restaurant has you covered, ensuring all your cravings are satisfied.
But the Arabian Night at Al Seef Heritage Hotel is more than just a culinary adventure. It's a sensory journey enriched by the captivating tunes of the oud, one of the most romantic musical instruments in the Arab world. As you dine, be serenaded by an exceptional Oud Player, who will transport you through time with this ancient instrument. Known as the "king of Arabic instruments," the oud's history stretches back centuries, and its melodies have been the soundtrack to countless tales of Arabian lore.
Don't miss out on this unforgettable Arabian culinary adventure. Plan your next visit to Al Seef Heritage Hotel and let the mesmerizing sounds of the oud complement your dining experience, carrying you away on a sensory journey through the captivating world of Arabian cuisine.
Get ready to indulge in a night of culinary excellence and cultural enchantment at Al Seef Heritage Hotel's Arabian Night. It's an experience that promises to ignite your senses and leave you with lasting memories of Arabian hospitality at its finest.
Contact Details: Call +971 4 707 7077
Visit the Website for more details.