Welcome to the world of Wise Guys, where the flavour, the history, and the mystery all come together in one place. The newly launched sandwich shop in DIFC is bringing the charm of old-school New York delis right to the heart of Dubai.
As soon as you step inside, you'll be transported back in time with retro decor and a welcoming team ready to serve you up some of the best sandwiches you've ever tasted. With a wide selection of gourmet subs made fresh on site, you'll be spoilt for choice.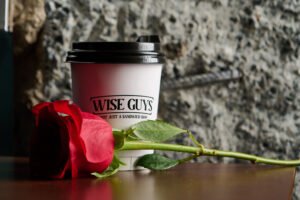 If you're looking for a hearty breakfast sandwich, the Egg Manifesto is a must-try. Made with fresh farm eggs and served on a pillowy soft potato roll, this sandwich is customizable with a variety of add-ons available to make it the perfect start to your day. Don't forget to ask for the Penny Benny, a Wise Guys insider favorite.
For lunch and dinner, indulge in the heavenly sandwiches that Wise Guys has to offer. Sink your teeth into the signature Wise Guys sandwich, featuring pastrami, mustard, caraway sauerkraut, caramelized onions, melted provolone, and a mix of botanicals on butter-toasted sourdough bread. If you're feeling adventurous, try the Forget About It sandwich with beef speck, pecorino, truffle cream cheese, pickled onions, and a mix of botanicals on butter toasted schiacciata. And for a turkey-lover's delight, The Ollie is packed with smoked turkey, fresh mozzarella, horseradish mayo, sauteed spinach, marinated tomatoes, romaine lettuce, and honey sriracha on butter toasted sourdough bread.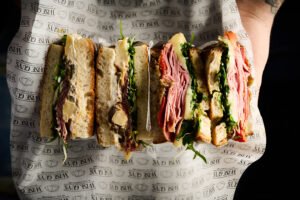 Vegetarian options are also available, including the plant-powered Constanzia sandwich, also known as CONNIE. This hoagie loaf is filled with marinated tomatoes, iceberg lettuce, red onions, pesto, dukka, celery sticks, pickled roasted peppers, a mix of botanicals, honey sriracha dressing, and raisins. If you're looking for something lighter, Wise Guys also offers crisp and fresh salad bowls tossed with colorful veggies, crunchy croutons, dried fruits, and creamy cheeses.
But wait, there's more to Wise Guys than meets the eye. The shop has a sense of mystery surrounding it, leaving customers wondering what secrets may be hidden within the walls. Is there something more to this retro sandwich spot than just great food? Only time will tell. Come and experience Wise Guys for yourself, and become a part of the story. With its old-school charm, delicious food, and intriguing mystery, this is one place you won't want to miss.
Contact Details: 00971 52 686 3801
Opening Times: 8:30AM till 11:00PM
Address: Gate District, The Marble Walk
Instagram: @wiseguysdubai