Step into the enchanting world of Oz like never before with "The Wizard of Oz 360°," a mesmerizing digital show that transcends the boundaries of imagination. At the Theatre of Digital Art (TODA), audiences of all ages are invited to experience a one-hour adventure that seamlessly blends technology and storytelling, delivering a magical spectacle for the whole family.

Imagine walking along the iconic yellow brick road, immersing yourself in a magical realm where Dorothy and her friends come to life in a way you've never seen. This 360-degree digital show promises to be a visual feast, captivating the audience with its innovative approach to storytelling.
As the narrative unfolds, audiences, young and old, will be introduced to a cast of astounding characters, each contributing to a journey of self-discovery. The central theme resonates with the idea that the answers to our questions and the potential to achieve our dreams often lie within ourselves. It's not just a story; it's a powerful message for both children and adults alike.
"The Wizard of Oz 360°" goes beyond entertainment; it's a conduit for valuable life lessons. Through cutting-edge technology, the show creates a bridge between fantasy and reality, reminding us of the importance of introspection and the strength that resides within. The narrative beautifully underscores the significance of home and the cherished bonds with our loved ones.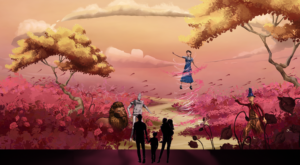 Daria Prodaevich, Managing Director at TODA, expressed excitement about bringing this production to life, combining the brilliance of the Illusionists – known for 'The Little Prince 360°' – with the iconic tale of Oz. The result is a breathtaking, immersive adventure that showcases the extraordinary power of art and technology working in harmony.
Starting from November 13th, "The Wizard of Oz 360°" will run all day at TODA, making it an ideal family adventure. Don't miss this educational and heartwarming experience that promises to transport you to a world where magic and technology intertwine to create something truly extraordinary.
Visit the Website for more details.