In the heart of Dubai, a captivating oasis of elegance and culinary excellence has emerged, inviting guests to step into a realm where relaxation and indulgence reign supreme. Address Downtown proudly unveils its latest gem, The Garden – an enchanting indoor extension to the already stunning Lobby Lounge. This is not just a dining experience; it's a journey into tranquillity and exquisite flavors.
As you enter The Garden, you're transported to a world of serenity and sophistication. The newly renovated extension features a gardenia-inspired ambiance and boasts breathtaking panoramic views of the iconic Burj Khalifa. But that's just the beginning of this paradisical escape.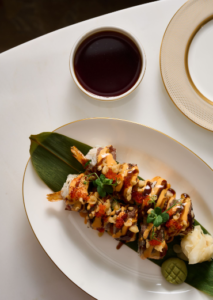 One unique highlight is the introduction of indoor hubbly bubbly, allowing enthusiasts to savor traditional flavors in a delightful climate-controlled environment. With experts on hand to guide you through a selection of premium flavors, The Garden ensures an authentic and soothing experience on every visit.
The Garden is not just about culinary delights; it's also a haven for cocktail aficionados. Expert mixologists craft an array of handcrafted cocktails to cater to every taste. From timeless classics like Aperol Spritz and Margarita to innovative signatures like the Grape Smash and Moonlight Tariff, each sip is a moment to remember. The backdrop of Dubai's glittering skyline adds a touch of magic to your libations.
For culinary enthusiasts, The Garden is a paradise. The international menu invites you on a gastronomic journey around the world. Savor sustainably sourced Smoked Salmon Salad, mouthwatering Maki Rolls, Organic Egg Benedict, irresistible Pizza and Pasta options, and succulent grill mains. The freshest seasonal ingredients come together in dishes that tantalize even the most discerning foodies.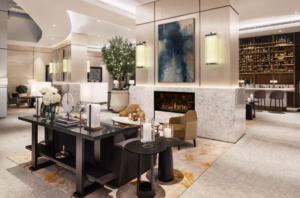 The transition from indoor comfort to outdoor bliss is seamless at The Garden. Elegant sliding doors create a harmonious connection between the lively energy of the Lobby Lounge and the lush tranquillity of The Garden. You can enjoy the serene ambiance while still being connected to the vibrant atmosphere of the surrounding space.
Every detail at The Garden is meticulously designed to provide an oasis of relaxation, delectable cuisine, and breathtaking views. It's a place where you can escape the bustling city and immerse yourself in a world of utter enchantment!
Contact Details: Call +971 4 436 8888 or Email dineatdowntown@addresshotels.com.
Visit the Website for more details.