Infinix, a trailblazer in the tech realm, has introduced the groundbreaking Infinix ZERO 30, redefining the mid-tier smartphone segment with an unparalleled blend of cutting-edge features and an affordable price tag. This innovation promises to cater to the burgeoning community of young vloggers, offering them a gateway to exceptional vlogging experiences without breaking the bank.
Designed to capture the essence of storytelling through video, the Infinix ZERO 30 emerges as a beacon for high-quality content creation, boasting a 50MP 2K front vlog camera. This transformative feature elevates the video quality, infusing vividness and detail beyond standard HD, opening doors for vivid and expressive cinematic vlogs.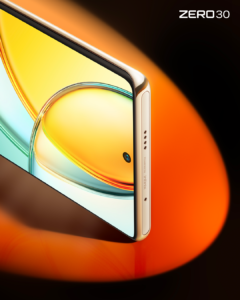 The device's innovative front camera is not just about pixel count; it's about ensuring crisp and clear videos in all situations. The Phase Detect Autofocus (PDAF) coupled with Dual Micro-slit Flash empowers users to capture moments regardless of lighting conditions—be it the gleaming daylight or the mysterious night.
Beyond standard video recording, Infinix ZERO 30 offers an array of unique video shooting modes to unlock creativity. From Movie Filter mode, enabling authentic cinematic ratios, to Dual View mode capturing both front and rear perspectives simultaneously, and the Sky Remap feature, allowing users to alter weather conditions—a treasure trove for aspiring content creators.
On the rear camera front, the Infinix ZERO 30 impresses with a remarkable 108MP sensor, delivering vibrant low-light photography and adaptive pixel technology, ensuring every detail 'pops' even in varying lighting scenarios.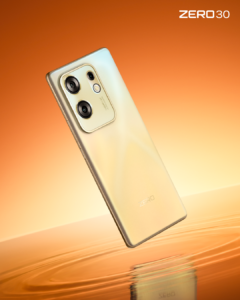 The device's visual prowess is further amplified by a meticulously crafted 3D curved AMOLED display. Boasting a 120Hz refresh rate, high contrast ratio, and a reassuringly solid in-hand feel, this display epitomizes visual excellence and durability, ensuring an immersive visual experience.
Under the hood, the Infinix ZERO 30 boasts an octa-core Helio G99 processor from MediaTek, promising smooth multitasking and high-performance for processor-intensive tasks like video editing. Not compromising on power, the device comes with a 5,000mAh battery supporting 45W Super Charging, alleviating charging anxieties.
With a substantial 16GB Extended Memory and 256GB internal storage, the Infinix ZERO 30 is tailored for handling the demands of 2K video recording and storing hours of high-resolution content effortlessly.
Priced at a remarkable 799 SAR, the Infinix ZERO 30 is a testament to technological innovation and accessibility, available in Sunset Gold, Misty Green, and Pearly White color options, inviting young creatives to embark on their storytelling journey without limitations.
Visit the Website for more details.