Kai Enzo, the renowned rooftop restaurant curated by Chef Izu Ani, has unveiled its breathtaking rooftop terrace, offering panoramic views of Dubai's skyline, the iconic Burj Khalifa, and the enchanting Arabian Gulf sunsets. This unveiling coincides with the debut of 'Land of Izumo'—a distinctive menu conceived by Chef Izu, showcasing a delightful blend of Japanese and Mediterranean flavors.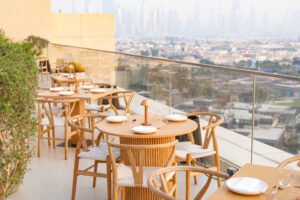 Drawing inspiration from the allure of Izumo, Japan, famed for its connection to sunsets, and echoing Dubai's captivating evenings, the 'Land of Izumo' menu pays homage to the revered 'Inasa no Hama' shoreline, where the sun gracefully descends into the sea. This menu, steeped in ancient Japanese legends, paints a picturesque scene of crimson skies and the silhouette of Bentenjima Island—a tribute to the divine transitions of the sun.
As the Arabian Gulf sun bids adieu, Kai Enzo offers a unique experience inviting guests to partake in a special ritual. Through 'Ema' wishboards, diners contribute their wishes, weaving an artistic tapestry symbolizing shared dreams and connections with the enchanting sunsets. Each wishboard, once hung, embodies collective dreams and profound ties with the sunsets—an immersive way to express desires and become part of Kai Enzo's ethereal experience.
The terrace, nestled at the Hyatt Centric Jumeirah at La Mer, epitomizes minimalistic elegance, adorned with chic furnishings that provide an idyllic setting to behold the Dubai skyline and the enthralling sunsets. As Dubai's weather turns cooler, this alfresco dining haven transforms into a picturesque retreat for diners.
Savor the bespoke 'Land of Izumo' menu, featuring meticulously crafted Japanese-inspired cocktails and delectable bites. Indulge in Amai, Shima Dream, Yuyake, Wabi, and Amber Fizz cocktails, each an ode to Japanese culture. Complementing these libations are Kai Enzo's flavorful bites—homemade pickles, potato crisps with tuna and olive oil mousse, kare pan, eggplant dengaku dip, and Stracciatella cheese with charred grapes—a delightful medley for discerning palates.
Kai Enzo's new rooftop terrace offers an immersive experience, promising a sensory engagement with captivating sunsets, exquisite culinary artistry, and a lively ambiance—an invitation to savor flavors, celebrate sunsets, and craft cherished memories.
Diners can indulge in the exclusive 'Land of Izumo' cocktails and bites menu on the terrace daily from 5-8 PM, starting October 25th.
For further details or reservations, please visit www.kaienzo.com.