Nestled on the enchanting Palm Jumeirah, where luxury meets leisure, Taj Exotica Resort & Spa, The Palm Dubai has unveiled a gem for fitness enthusiasts and relaxation seekers alike – their new beachfront Padel Court.
Dubai, known for its opulence and innovation, welcomes a thrilling addition to its sporting landscape. On August 30th, Taj Exotica Resort & Spa introduced a beachfront Padel Court that promises an exceptional blend of luxury and fitness against the backdrop of the mesmerizing Palm Jumeirah.
Picture yourself on the East Crescent of Palm Jumeirah, with the azure ocean stretching as far as the eye can see. The court is a stone's throw from this magnificent vista, offering players and onlookers alike an unparalleled sense of serenity.
Taj Exotica ensures that both in-house guests and external visitors can partake in this sporting extravaganza. For AED 180, in-house guests can access the court, with an additional AED 25 for racket rental. External guests can enjoy the experience for AED 280. It's not just a game; it's an inclusive opportunity to enjoy a unique fitness adventure.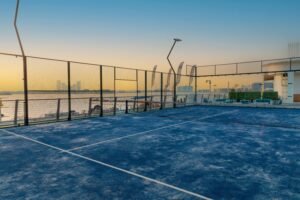 As Palm Jumeirah residents already know, this luxurious resort is at the heart of this iconic location. The Padel Court caters to both guests and residents, adding an extra layer of leisure to their lives.
Imagine booking the Padel Court for 90 minutes or more. It's not just about the game; it's about nurturing your body and soul. The court merges the excitement of sport with the tranquility of relaxation and breathtaking scenery, creating a holistic encounter that leaves you refreshed.
In conclusion, Taj Exotica Resort & Spa's Padel Tennis Court is more than just a sporting facility; it's a haven of fitness and serenity on one of Dubai's most prestigious shores. With its stunning location and inclusive offerings, it's set to redefine how we enjoy leisure and sport in this vibrant city.
Don't let this opportunity slip through your fingers. Be among the first to experience the Padel Court at its finest. Book your slot now by visiting Taj Exotica's Padel Court page or contacting at +971581268407 , ters.recreationdubai@tajhotels.com.
Instagram: @tajpalmdubai